A Large 19-inch Himalayan Shaman Phurba
---
---
Himalayan Shaman Phurba 19 inches (29 cm)
Himalayan Shaman Phurba 19 inches (29 cm)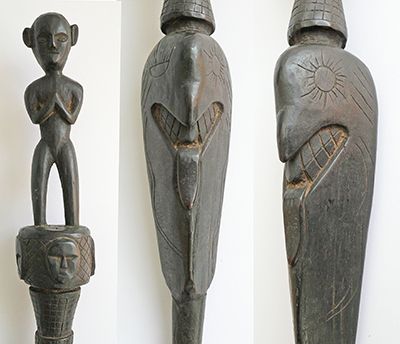 This exceptionally large rosewood Phurba is of a type favoured by Himalayan Shaman for healing and energetic work.
It features a standing figure, almost certainly a representation of its shaman owner, with hands together in prayer.
He stands on a carved crown plinth depicting a four-faced deity, below which is a stylized dorje hilt and a large bird-like Makara with sun and moon eyes, and its tongue sticking out.
The Makara forms the top of two of the phurba's three-sided blade, the third features a carved insect, probaby a louse. The pointed tip of the blade has been wrapped in sheet metal to protect the wood when the phurba is thrust into the ground.
It's difficult to date this phurba as it is one of a kind, but I believe it to be mid 20th century, possibly earlier.