Amazing 19th Century Lingam Singing Bowl – Double Concert Pitch – Low B2 & F#4
---
---
Antique Lingam Singing Bowl. Notes B2 & F#4 (Crown & Heart Chakras)
Weight 688 grams (1 lb 8 ¼ oz). Size 20 x 12 cm (8 x 4 ¾ inches)
Antique Lingam Singing Bowl. Notes B2 & F#4 (Crown & Heart Chakras)
Weight 688 grams (1 lb 8 ¼ oz). Size 20 x 12 cm (8 x 4 ¾ inches)
This wonderful 19th century Singing Bowl has such finely crafted walls that it is half the normal weight for its size, and its subsequent vibrant energy produces the lowest octave note I have ever encountered in a lingam.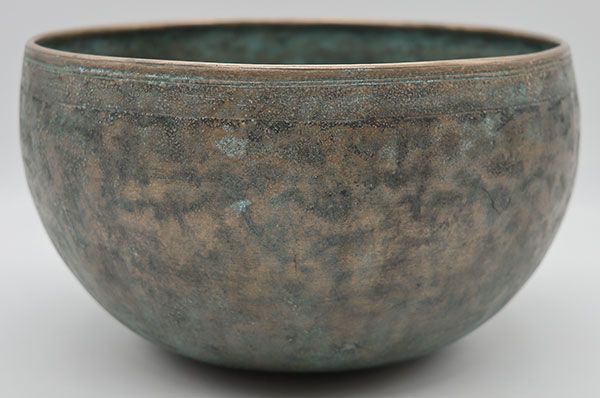 The fundamental note is an amazingly low second octave B2 (124Hz) when struck with a padded mallet or played around the rim with a suede ringer. And by lucky chance it just happens to be perfect concert pitch! Low octave bowls are few and far between, and generally confined to the very largest Jambati or ultabati bowls, with perhaps just one in 500 capable of producing a second octave note.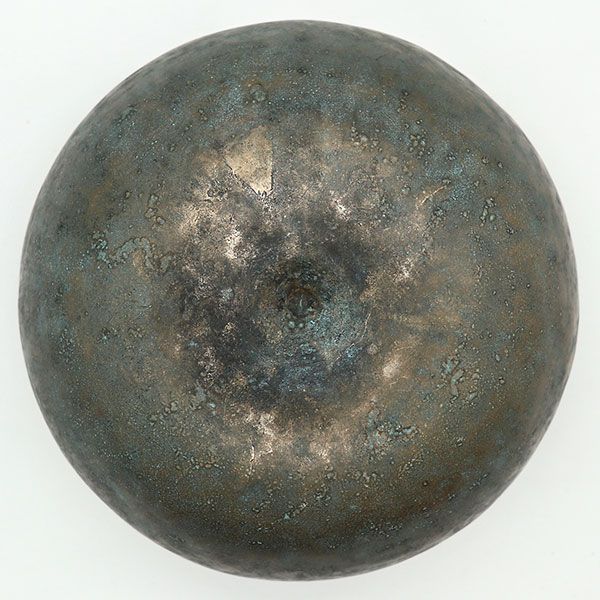 Furthermore, when played around the rim with a wooden ringer this bowl produces another perfect pitch note, a middle octave F#4 (370Hz) harmonic!
This unusually large lingam bowl has a rare globular form with high walls and a rounded lip. There are circles surrounding the lingam at its centre, and it has a neat navel or yoni underneath. There are decorative bands encircling the outer rim.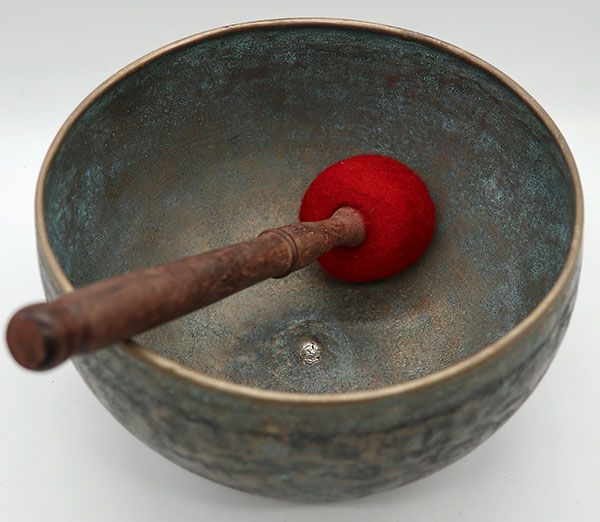 This bowl has given long service and shows signs of wear, but it is in good structural condition and has an attractive colour and aged patina. It is one of a kind and has the look and feel of antiquity.
A Tibetan silk brocade bowl cushion, padded striker, and two ringers are all included in the price.
{audio}lingam688.mp3{/audio}
Listen: (3 struck notes and 2 played notes, suede then wood ringer)