Antique 10 ¼" Jambati Singing Bowl – 2 Concert Pitch Voices & Long Sustain
---
---
Antique Jambati Singing Bowl. Notes F3 & C6 (Heart & Root Chakras)
Weight 1.68 kilos (3 lb 11 ¼ oz). Size 26 x 12.5 cm (10 ¼ x 5 inches)
Antique Jambati Singing Bowl. Notes F3 & C6 (Heart & Root Chakras)
Weight 1.68 kilos (3 lb 11 ¼ oz). Size 26 x 12.5 cm (10 ¼ x 5 inches)
This is a nice quality full-bodied antique Jambati Singing Bowl with 2 fabulous concert pitch voices. The fundamental note is a glorious perfect pitch third octave F (175Hz) when struck with a padded mallet or played around the rim with a suede or wooden ringer. The struck note has a particularly long and lovely sustain. The rim note will also play a high perfect pitch sixth octave C (1048hz) with a wooden ringer.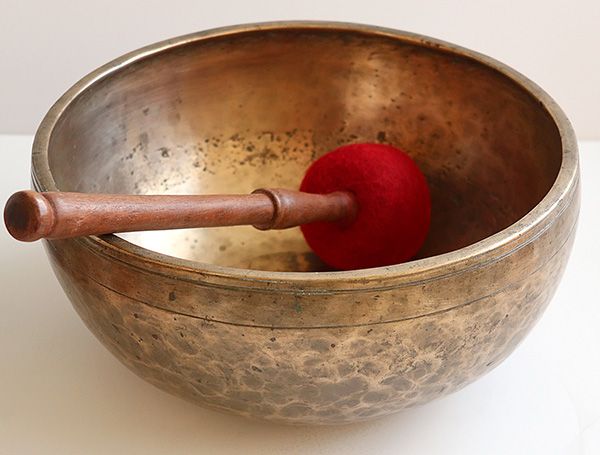 This well-crafted antique bowl has finely hammered walls, a triangulated lip, circles at its centre and decorative bands encircling the rim.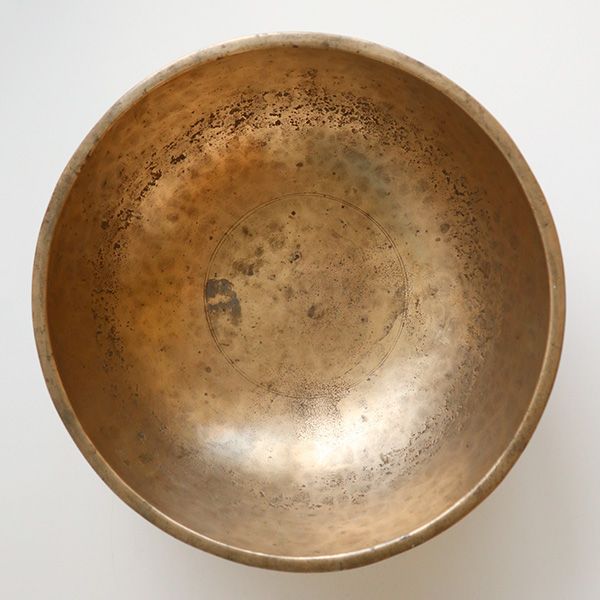 It is structurally sound and basically attractive and clean, but unfortunately there is a 1-inch band of pitting encircling the inner wall; probably the result of something corrosive sitting on top of soil or grain in the bottom of the bowl. The pitting is clean and not at all rust-like in appearance. It does not appear to impact on the sound of this bowl, which is particularly beautiful. However, I have substantially reduced its price to take into account this cosmetic issue.
If the quality of sound is your priority then this large and still-handsome antique bowl will represent excellent value.
A Tibetan silk brocade bowl cushion, a padded striker and a ringer are all included in the price.
{audio}jambati1.68f3.mp3{/audio}
Listen: (2 struck notes and 2 played notes, suede then wood ringer)