Antique 10" Jambati Singing Bowl – Superb F#3 and D5 Voice
---
---
Antique Jambati Singing Bowl. Note F#3 & D5 – Heart & Sacral Chakras
Weight 1.12 kilos (2 lb 7 ¼ oz). Size 25 x 11 cm (10 x 4 ¼ inches)
Antique Jambati Singing Bowl. Note F#3 & D5 – Heart & Sacral Chakras
Weight 1.12 kilos (2 lb 7 ¼ oz). Size 25 x 11 cm (10 x 4 ¼ inches)
This is a premium medium-size antique Jambati Singing Bowl with two exceptional voices, both of which are very close to concert pitch.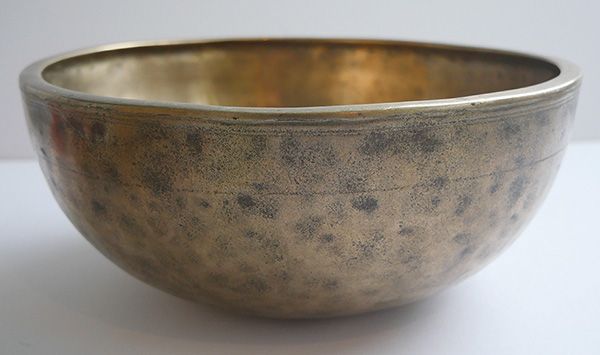 The fundamental is a third octave F# (186Hz) when struck or played with a suede ringer. The rim note when played with a wooden ringer becomes a fifth octave D5 (589Hz). It is extremely responsive, very light for its size, and therefore comfortable to hold and play for an extended period.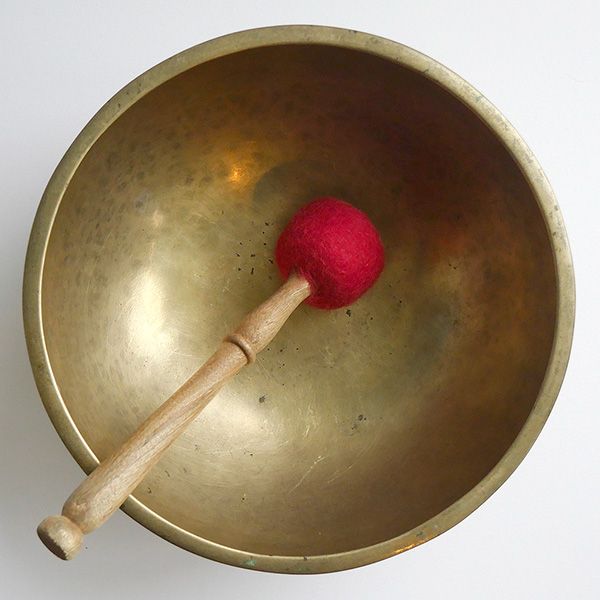 This beautifully crafted bowl probably dates from the first half of the 19th century. It has finely forged smooth walls, a triangulated level lip, and decorative bands below the rim. It is in excellent structural condition for its age, clean and blemish free.
A Tibetan silk brocade bowl cushion and ringer are included in the price.
{audio}jambati1.12fs3.mp3{/audio}
Listen: (2 struck notes and 2 played notes, suede ringer then wood)