Antique 9 ¼" Jambati Singing Bowl – Low Perfect Pitch G#2
---
---
Antique Jambati Singing Bowl. Notes: G#2 & Eb4 (Throat & Solar Plexus Chakras)
Weight 2 lb 3 ¼ oz. (1.0 kilo). Size 23.5 x 11 cm (9 ¼ x 4 ¼ inches)
Antique Jambati Singing Bowl. Notes: G#2 & Eb4 (Throat & Solar Plexus Chakras)
Weight 2 lb 3 ¼ oz. (1.0 kilo). Size 23.5 x 11 cm (9 ¼ x 4 ¼ inches)
This Antique Jambati Singing Bowl has finely hammered walls, making it relatively light for its size and therefore comfortable to hold and play for an extended period if required.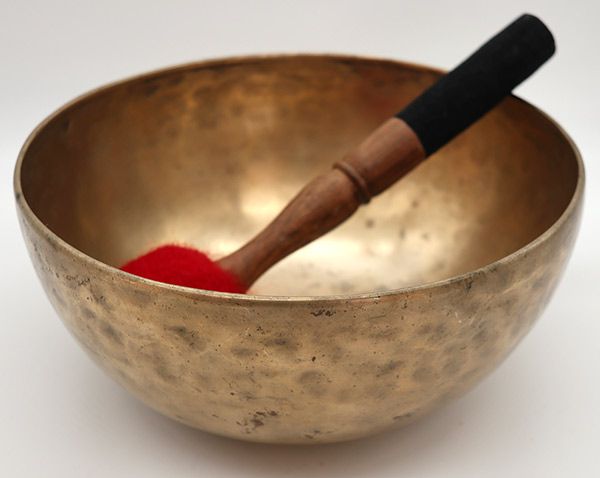 The fundamental note is a low perfect pitch second octave G#2 (104Hz) when struck with a padded mallet or played around the rim with a suede ringer. The rim note changes to a middle Eb4 (316Hz) with a wooden ringer.
This is an older bowl and its outer surface is now sensually smooth with long use, and the decorative circles at its centre are no-longer present.
This attractive Jambati bowl is in good structural condition but with some slight surface grazing on the outer wall, typically found on some older bowls. It is free of stains and has a nice antique golden bronze colour.
A Tibetan silk brocade cushion and a double-ended teak and suede ringer are included in the price.
{audio}jambati1.mp3{/audio}
Listen: (3 struck notes and a played note with a suede ringer)