Antique Golden Ultabati Singing Bowl – Concert Pitch B2
---
---
Antique Ultabati Singing Bowl. Notes B2 & F5 (Crown & Heart Chakras)
Weight 1.17 kilos (2lb 9 ¼ oz). Size 23.5 x 11 cm (approx. 9 ¼ x 4 ¼ inches)
Antique Ultabati Singing Bowl. Notes B2 & F5 (Crown & Heart Chakras)
Weight 1.17 kilos (2lb 9 ¼ oz). Size 23.5 x 11 cm (approx. 9 ¼ x 4 ¼ inches)
This antique Ultabati singing bowl has a low second octave B fundamental (126Hz) when struck with a padded mallet and a perfect concert pitch B (124Hz) when played around the rim with a suede ringer. The rim note changes to a fifth octave F (187Hz) with a wooden ringer.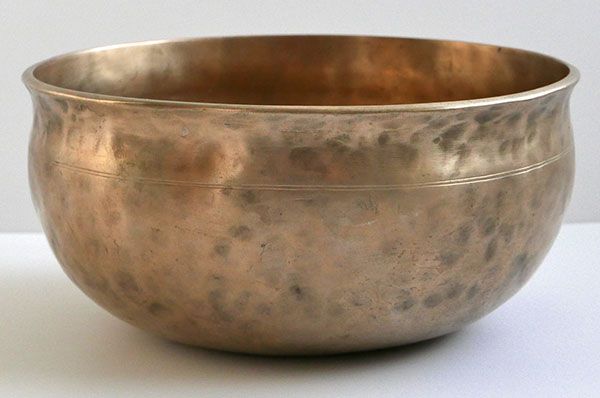 This antique bowl has a particularly nice scooped neck and a lovely golden bronze colour. It has an excellent lip, circles at its centre and a simple decorative band defines the shoulder.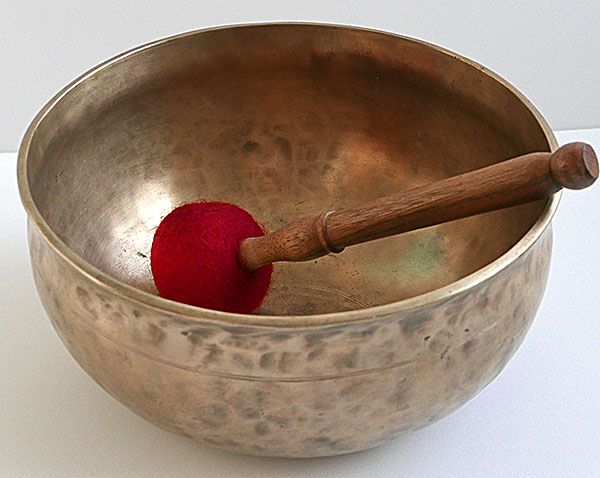 It is structurally sound and free of stains, although there is a small surface aged crack near the centre that I consider to be of no consequence as it does not penetrate to the other side and has no impact on the sound.
A Tibetan silk brocade bowl cushion, a padded striker and a ringer are all included in the price.
A very attractive golden Ultabati with a great voice!
Note: Audio clips coming soon.