Antique Himalayan Ultabati Singing Bowl – G4 & Concert Pitch C3
---
---
Himalayan Ultabati Singing Bowl. G4 & C3 (Throat & Root Chakras)
Weight 3 lb 1¾ oz (1.41 Kilos). 26 x 12.5 cm (approx. 10¼ x 5 inches)
Himalayan Ultabati Singing Bowl. G4 & C3 (Throat & Root Chakras)
Weight 3 lb 1¾ oz (1.41 Kilos). 26 x 12.5 cm (approx. 10¼ x 5 inches)
This handsome antique Himalayan Ultabati Singing Bowl has lots of vibrant energy and an excellent pulsating middle G fundamental (386Hz) when struck with a padded mallet or played around the rim with a suede ringer. The rim note changes to a perfect pitch third octave C (131-132Hz) if a wooden ringer is employed.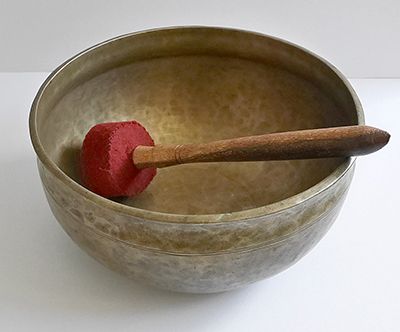 Ultabati bowls have a very distinctive caldron-like form with fine walls, a scooped or flared neck and an out-turned downward-sloping lip.
This bowl is structurally sound a free of stains. It has an unusual chestnut brown bronze colour and is the perfect size and weight for hand-held playing.
A Tibetan silk brocade bowl cushion, a padded striker and a ringer are all included in the price.
Note: Audio clips coming soon.