Antique Lingam Singing Bowl in 'As Found' Condition – B3 & F5
---
---
Antique Lingam Singing Bowl. Notes B3 & F5 (Crown & Heart Chakras)
Weight 791 grams (1 lb 12 oz). Size 18 x 8 cm (7 x 3 inches)
Antique Lingam Singing Bowl. Notes B3 & F5 (Crown & Heart Chakras)
Weight 791 grams (1 lb 12 oz). Size 18 x 8 cm (7 x 3 inches)
This rare antique Lingam Singing Bowl is supplied in its 'as found' condition, uncleaned and unpolished. It has two excellent voices…a fundamental third octave B (253Hz) when struck with a padded mallet or played around the rim with a suede ringer. The suede ringer will also produce a fifth octave F (715Hz) if one pushes through the B3 while playing. The rim note is F5 if a wooden ringer is used.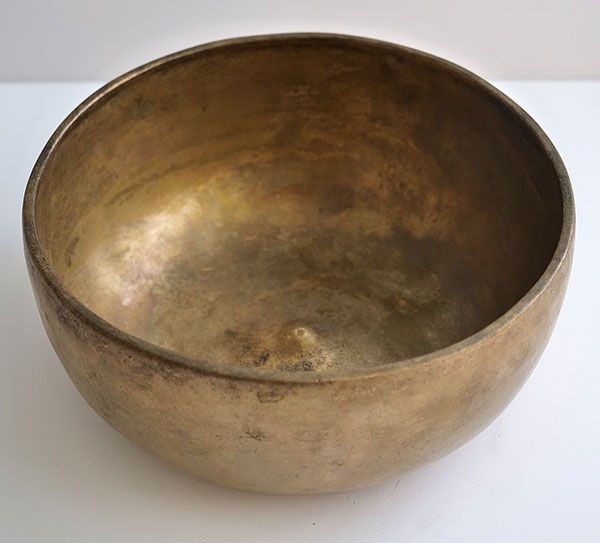 This bowl has had a long and sometimes hard life and is basically sound, but has a small dent underneath that can be seen and felt inside, although it doesn't appear to have penetrated the surface and has no impact on the sound, which is very nice. However, I have taken this cosmetic issue into account and reduced the price of this rare bowl accordingly.
A Tibetan silk brocade bowl cushion and a double-ended teak and suede ringer are included in the price.
Note: Audio clips coming soon.