Antique Manipuri Singing Bowl – Perfect Pitch B4 (494Hz)
---
---
Antique Manipuri Singing Bowl. B4 (494Hz) Crown Chakra
Weight 417 grams. (0 lb 14 ¾ oz). Size 16 x 5.5 cm (6 ¼ x 2 ¼ inches)
Antique Manipuri Singing Bowl. B4 (494Hz) Crown Chakra
Weight 417 grams. (0 lb 14 ¾ oz). Size 16 x 5.5 cm (6 ¼ x 2 ¼ inches)
This is medium size antique Manipuri Singing Bowl with a perfect concert pitch middle (4th) octave B fundamental (494Hz) when struck or played with a ringer.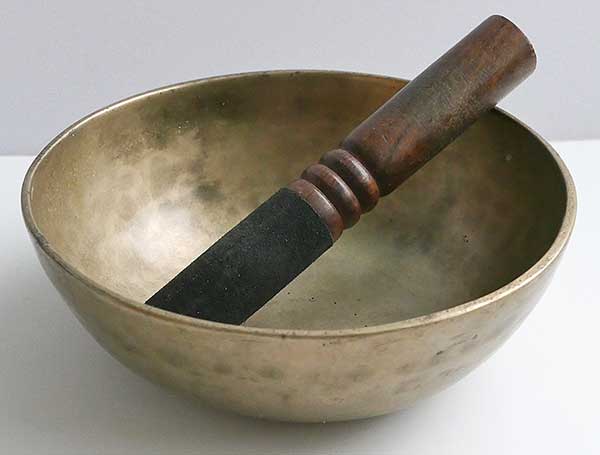 This is an older bowl, structurally sound, but with many of its decorative features now fairly faint…including the circles and ring of suns at its centre, and the ritual gashes that once encircled the outer wall.
A lovely old Manipuri bowl with an excellent voice and the look and feel of antiquity.
A Tibetan silk brocade bowl cushion and a ringer are included in the price.
Note: Audio clips coming soon.