Antique Naga/Pedestal Singing and Healing Bowl – E4 (333Hz) Inscription with Elephant
---
---
Antique Naga Singing Bowl. Note E4 – Solar Plexus Chakra
Weight 1.10 kilos (2 lb 6 ¾ oz). Size 17.5 x 12.5 cm (7 x 5 inches)
Antique Naga Singing Bowl. Note E4 – Solar Plexus Chakra
Weight 1.10 kilos (2 lb 6 ¾ oz). Size 17.5 x 12.5 cm (7 x 5 inches)
This is a good quality antique Naga or Pedestal Singing Bowl with a nice middle E fundamental when struck or played around the rim with a suede ringer.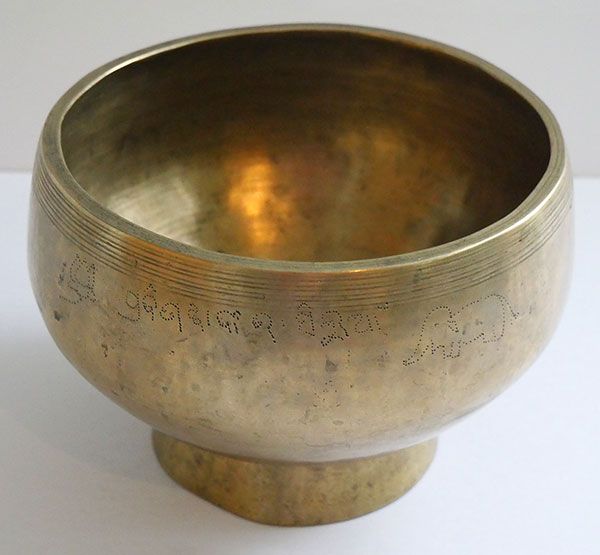 It is well constructed and has the typical shape of this interesting and now quite rare bowl type, with multiple decorative bands around the outer rim. It benefits from an excellent dot-punched inscription set between a lotus and an elephant.
It is in excellent structural condition, clean and stain-free.
A double-ended teak and suede ringer is included in the price.
{audio}naga1.10e4.mp3{/audio}
Listen: (2 strucl notes and 1 played note)