Antique Thadobati Singing & Talking Bowl – Bb3 (228Hz)
---
---
Antique Thadobati Singing & Talking Bowl – Bb3 (Crown Chakra)
Weight 739 grams (1 lb 10 oz): Size 16 x 8.5 cm (6 ¼ x 3 ¼ inches)
Antique Thadobati Singing & Talking Bowl – Bb3 (Crown Chakra)
Weight 739 grams (1 lb 10 oz): Size 16 x 8.5 cm (6 ¼ x 3 ¼ inches)
A nice high-sided pot-shaped Antique Thadobati Singing & Talking Bowl with super-fine walls and decorative bands around the outer rim and belly.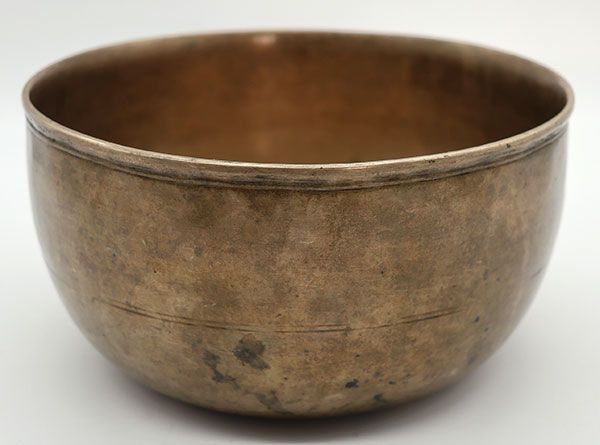 The fundamental note is a third octave Bb3 (228Hz) when struck with a padded mallet or played around the rim. The rim note changes to a fifth octave Eb5 (640Hz) with a wooden ringer. It is a responsive and versatile bowl with a good talking voice when struck and rocked back and forth with a little water inside.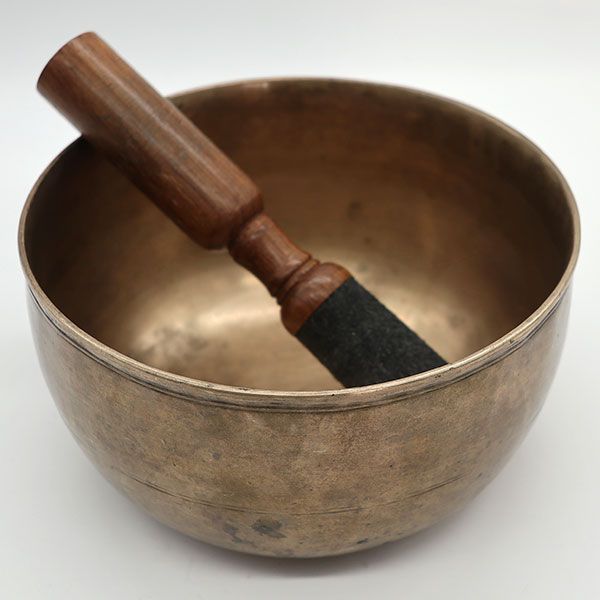 It is in good structural condition, clean, with some light aged patina.
A Tibetan silk brocade bowl cushion and a double ended teak and suede ringer are included in the price.
Note: Audio clips coming soon.