Antique Thadobati Singing & Talking Bowl – G#3 (205Hz)
---
---
Antique Thadobati Singing & Talking Bowl. G#3 (205Hz) Throat Chakra
Weight 1 lb 14 ½ oz. (866 grams). Size 18.5 x 9 cm (7 ¼ x 3 ½ inches)
Antique Thadobati Singing & Talking Bowl. G#3 (205Hz) Throat Chakra
Weight 1 lb 14 ½ oz. (866 grams). Size 18.5 x 9 cm (7 ¼ x 3 ½ inches)
This high-sided antique Thadobati Singing Bowl has a third octave G# fundamental when struck or played around the rim. It also has talking abilities when played and rocked with a little water inside.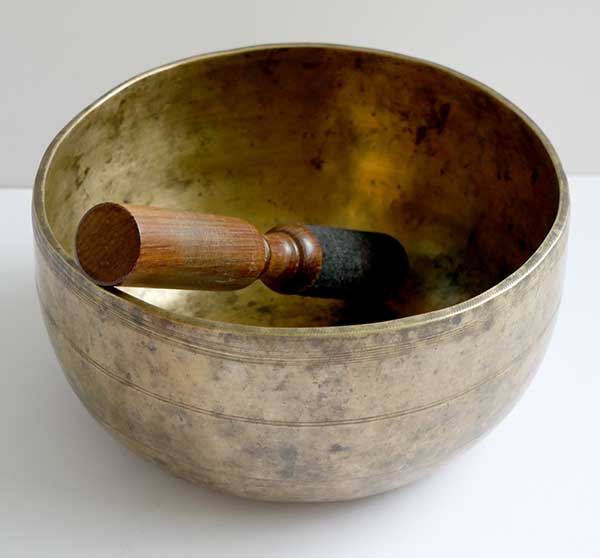 This interesting and characterful 19th century bowl is pretty much in its original 'as found' condition, and although structurally sound it has some stains here and there that could probably be removed with some effort. There are circles at its centre, which is slightly mounded and probably accounts for its talking ability. And there are decorative lines just below the outer rim and around its belly.
A Tibetan silk brocade bowl cushion and a ringer are included in the price.
{audio}thado866g.mp3{/audio}
Listen: (2 struck notes and 2 played notes, suede ringer then wood)