Antique Thadobati Singing Bowl – Fabulous Pulsating A3 (218Hz)
---
---
Antique Thadobati Singing Bowl. Notes A3 & E5 (Third Eye & Solar Plexus Chakras)
Weight 2 lb 8 ¾ oz. (1.15 kilos). Size 20 x 10 cm (7 ¾ x 4 inches)
Antique Thadobati Singing Bowl. Notes A3 & E5 (Third Eye & Solar Plexus Chakras)
Weight 2 lb 8 ¾ oz. (1.15 kilos). Size 20 x 10 cm (7 ¾ x 4 inches)
This large antique Thadobati Singing Bowl has a truly fabulous and rare pulsating third octave A fundamental (218Hz) with a long sustain when struck with a padded mallet or played around the rim with a suede ringer. The rim note changes to a fifth octave E (641Hz) when a wooden ringer is employed.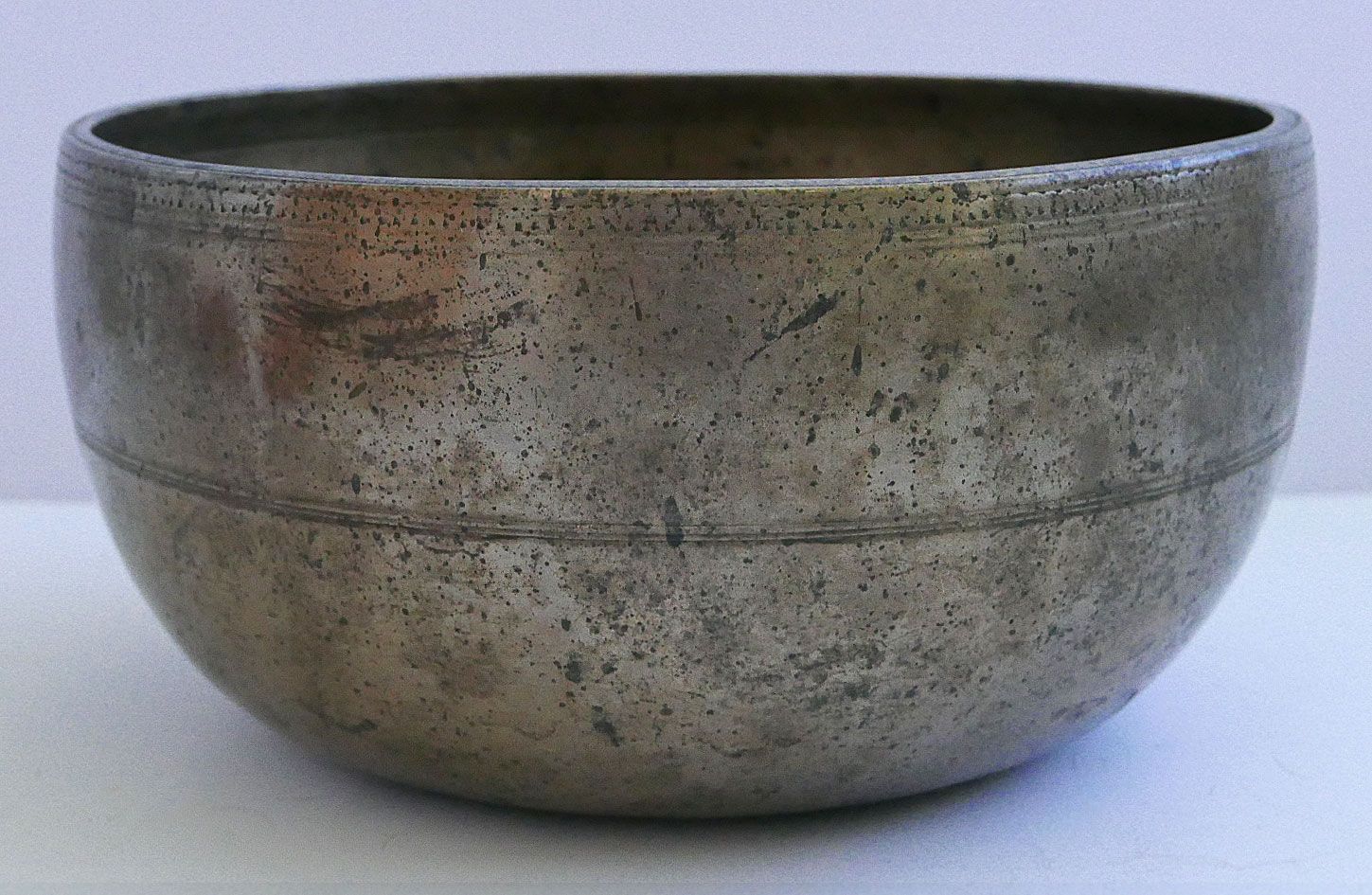 It is a beautifully forged high-sided bowl with a gracefully curved wall, and a grooved lip with a decorative border of dots around the outer rim. There are circles around its belly and at its centre.
This old bowl is clean and structurally sound. It has an attractive golden bronze colour with patches of smooth copper oxidization on the inside floor and underneath.
A lovely old bowl with a fabulous voice!
A Tibetan silk brocade bowl cushion, a striker and a ringer are all included in the price.
{audio}thado1.15a3.mp3{/audio}
Listen: (2 struck notes and 2 played notes, suede then wood ringer)