Beautiful Antique Jambati Singing Bowl (Circa 1800) – C4 Concert Pitch
---
---

Antique Jambati Singing Bowl – Note C4 (261Hz) Root Chakra
Weight 1.82 kilos (4 lb 0 oz) Size 9 ¾ x 4 inches (24.5 x 10 cm)
Antique Jambati Singing Bowl – Note C4 (261Hz) Root Chakra
Weight 1.82 kilos (4 lb 0 oz) Size 9 ¾ x 4 inches (24.5 x 10 cm)
This is a lovely example of an antique Jambati singing bowl with a gracefully rounded wall and low profile, dating from around 1800 and benefiting from a small but excellent inscription.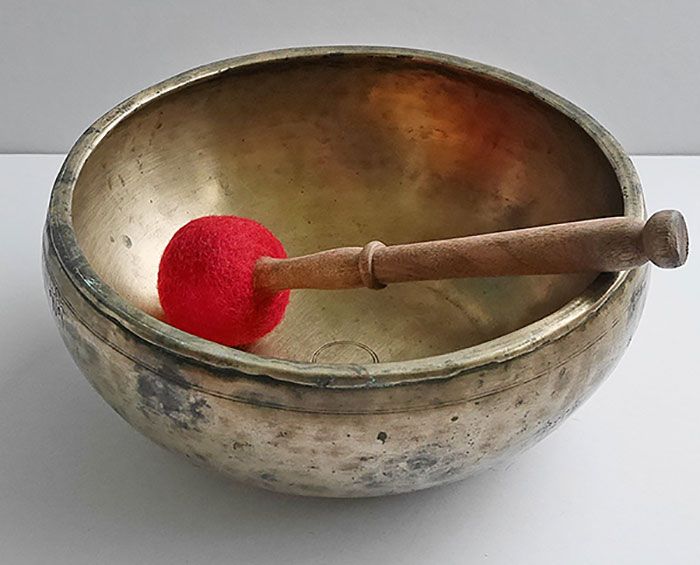 The fundamental note is a really beautiful middle C (261Hz) that is perfect concert pitch when struck or played around the rim.
This bowl has thick walls and is heavy for its size. It is structurally sound and in excellent condition for its considerable age and long service. A Tibetan silk brocade bowl cushion, a padded striker and a ringer are all included in the price.
A stunning bowl with a rare shape and the look and feel of great antiquity!
{audio}jambati1.82c4.mp3{/audio}
Listen: (3 struck notes and 2 played notes, suede then wood ringer)