Beautiful Golden Antique Manipuri Singing Bowl – Eb4 (305Hz)
---
---
Antique Manipuri Singing Bowl. Eb4 Note (Solar Plexus Chakra)
Weight 1b 0 ½ oz (468g). 16 x 5.5 cm (approx. 6 ¼ x 2 ¼ inches)
Antique Manipuri Singing Bowl. Eb4 Note (Solar Plexus Chakra)
Weight 1b 0 ½ oz (468g). 16 x 5.5 cm (approx. 6 ¼ x 2 ¼ inches)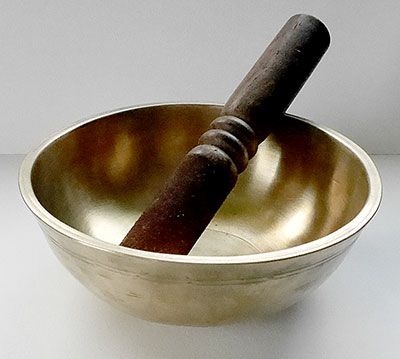 This is a fabulous superior quality antique Manipuri singing bowl with a responsive and excellent middle octave Eb voice. The note is the same whether struck or played.
It's a medium size bowl that sits comfortably on the palm of the hand, and is ideal for playing around the rim for an extended period without tiring.
This is undoubtedly a top quality bowl that is heavy for its size. The walls are thick, even, and finely hammered, and the lip is generous and grooved. There are concentric circles at its centre and two sets of decorative incised lines encircle the bowl below the outer rim.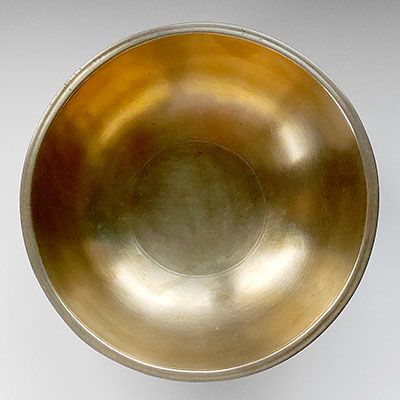 This handsome bowl is in excellent structural condition. It is clean and virtually free of stains and blemishes, and has a lovely deep golden bronze colour.
A Tibetan silk brocade bowl cushion and a double-ended teak and suede ringer are included in the price.
Note: Audio clips coming soon.