Characterful 18th Century Bell-Shaped Singing Bowl – Rare & Lovely A3 (224Hz)
---
---
Antique Singing Bowl. Notes: A3 & Eb5 (Third Eye & Solar Plexus Chakras)
Weight 1.14 kilos (2 lb 8 ¼ oz). Size 18.5 x 10 cm (7 ¼ x 4 inches)
Antique Singing Bowl. Notes: A3 & Eb5 (Third Eye & Solar Plexus Chakras)
Weight 1.14 kilos (2 lb 8 ¼ oz). Size 18.5 x 10 cm (7 ¼ x 4 inches)
This characterful 18th Century bell-shaped singing bowl has an excellent and rare A3 fundamental (224Hz) when struck with a padded mallet or played around the rim with a suede ringer. The rim note changes to a nice fifth octave Eb5 (624Hz) with a wooden ringer. It is very responsive and easy to play.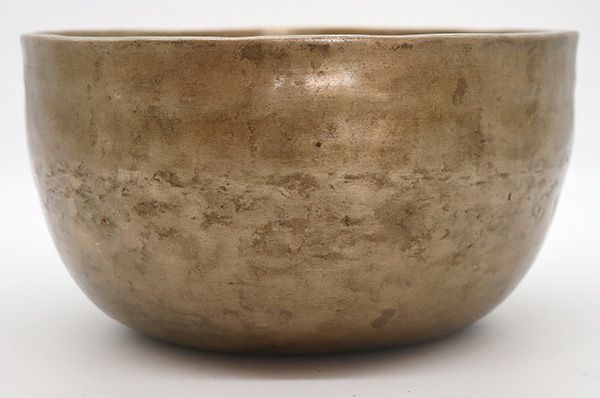 This old bowl has quite thick and tall walls, a sheared lip, circles at the centre, and a flat bottom. It was clearly a challenge to forge and the subtle irregularities to its form add enormously to its character.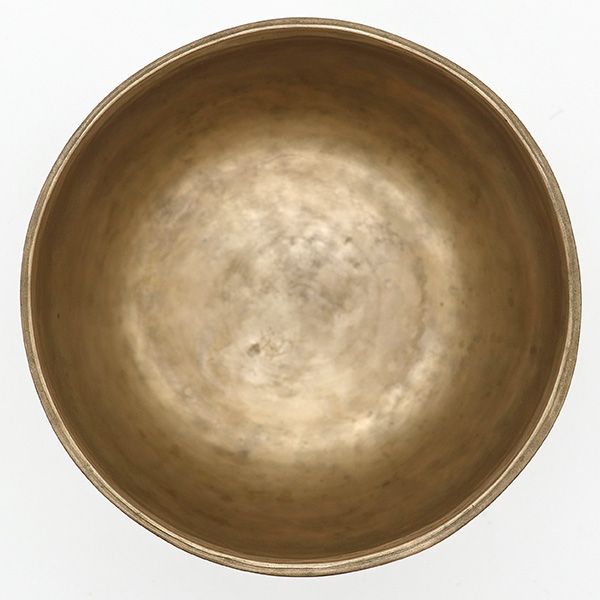 The structural condition of this antique bowl is excellent, clean and stain-free. Its deep golden bronze colour and aged patina endow it with the look and feel of antiquity.
Antique bell-shaped bowls have a distinctive voice and are very uncommon, with perhaps one in several thousand possessing this form.
A Tibetan silk brocade bowl cushion and a double-ended teak and suede ringer are included in the price.
{audio}thado1-14.mp3{/audio}
Listen: Listen: (3 struck notes and 2 played notes, suede ringer then wood)