Charming and Rare Tiny 18th Century Lingam Singing Bowl – Bb4
---
---
Antique Lingam Singing Bowl. Note Bb4 (Crown Chakra)
Weight 377 grams (0 lb 13 ¼ oz). Size 14 x 5 cm (5 ½ x 2 inches)
Antique Lingam Singing Bowl. Note Bb4 (Crown Chakra)
Weight 377 grams (0 lb 13 ¼ oz). Size 14 x 5 cm (5 ½ x 2 inches)
This charming and rare small lingam bowl dates from the 18th century and has a very nice middle octave Bb4 (479Hz) fundamental when struck and 475Hz when played around the rim with a wooden ringer.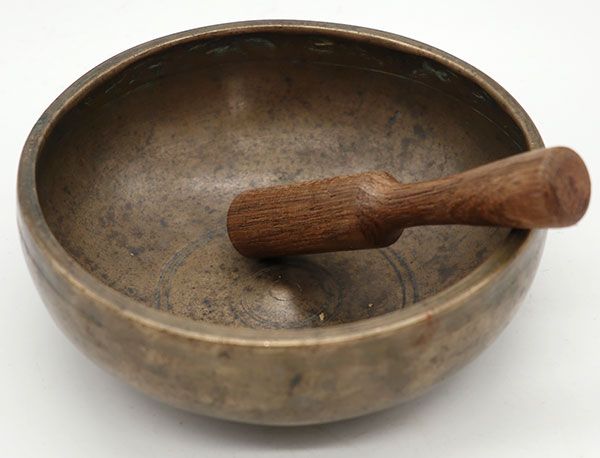 It is a very pretty bowl with a shallow or low profile and having a curved wall and grooved lip. There is a neat mounded lingam surrounded by circles, and a small navel or yoni underneath.
The structural condition of this bowl is good despite some surface grazing/flaking on the bottom that is quite commonly seen on extremely old bowls, particularly large Jambati. It appears to have no impact on the sound quality.
This rare little bowl has bags of character. It sits comfortably in the palm of the hand and feels very nice to the touch. It has an aged patina, looks ancient, and feels rather special.
A Tibetan silk brocade bowl cushion and 2 small ringers are included in the price.
Note: Audio clips coming soon.