Exceptional Quality Antique Lingam Singing Bowl in 'As Found' Condition – Perfect Pitch C4
---
---
Antique Lingam Singing Bowl. Notes C4 & F#6 (Root & Heart Chakras)
Weight 882 grams (1 lb 15 oz). Size 18.5 x 8 cm (7 ¼ x 3 ¼ inches)
Antique Lingam Singing Bowl. Notes C4 & F#6 (Root & Heart Chakras)
Weight 882 grams (1 lb 15 oz). Size 18.5 x 8 cm (7 ¼ x 3 ¼ inches)
This is an exceptionally fine antique Lingam Singing Bowl with a truly lovely shape and a wonderful perfect pitch middle C4 (261.5Hz) fundamental when struck with a padded mallet, and (265Hz) when played around the rim with a suede ringer. The rim note changes to an unusually high sixth octave F#6 (1454Hz) with a wooden ringer.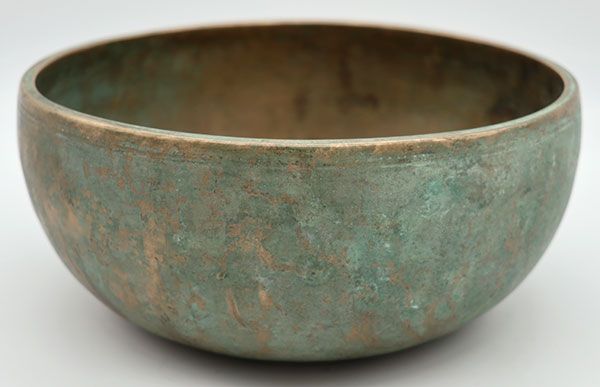 This is a well-proportioned superior quality bowl of considerable age and in excellent "as found' (uncleaned) condition. It has a graciously curved wall and a grooved lip. There is a large lingam surrounded by circles at its centre and a deep navel or yoni underneath. There is a decorative band of tiny dots encircling the outer rim.
This rare and lovely Lingam bowl has the most beautiful colourful aged patina inside and out, and the look and feel of great antiquity. It is structurally sound and would clean up like new if desired, but that would be a travesty in my opinion.
A really special bowl with a concert pitch voice, and one of the nicest Lingams in my collection!
A Tibetan silk brocade bowl cushion and a double-ended teak and suede ringer are included in the price.
Note: Audio clips coming soon.