Exceptionally Beautiful & Very Rare Antique Lingam Singing Bowl – Perfect Pitch G#3
---
---
Antique Lingam Singing Bowl. Notes: G#3 & D5 (Throat & Sacral Chakras)
Weight 997 grams (2 lb 3 ¼ oz). Size 20.5 x 6.5 cm (8 x 2 ½ inches)
Antique Lingam Singing Bowl. Notes: G#3 & D5 (Throat & Sacral Chakras)
Weight 997 grams (2 lb 3 ¼ oz). Size 20.5 x 6.5 cm (8 x 2 ½ inches)
This is an exceptionally rare and beautiful 18th Century Lingam Singing Bowl with a wonderful voice – a perfect pitch third octave F#3 (208Hz) when struck with a padded mallet or played around the rim with a suede ringer. The rim note changes to a fifth octave D5 (573Hz) with a wooden ringer.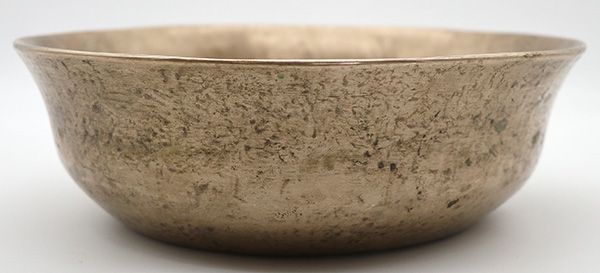 This bowl has been expertly crafted and its distinctive and well-defined shallow form immediately sets it apart from all the other bowls. You just know it's special and the sound is not going to disappoint.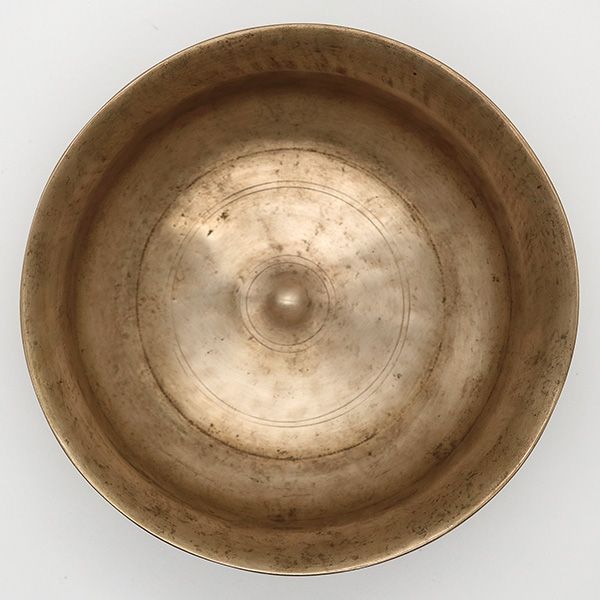 It is quite heavy for its size and has a flat bottom, a gracefully flared wall and a plain sheared lip. There is an unusually large lingam at its centre surrounded and defined by a pair of circles, with another pair some distance away. A single line encircles the inner wall at the midpoint, and others can be seen at intervals around the outer wall. There is a very deep navel or yoni underneath. I am very surprised that a bowl of this quality, and with such a unique form, does not carry an inscription.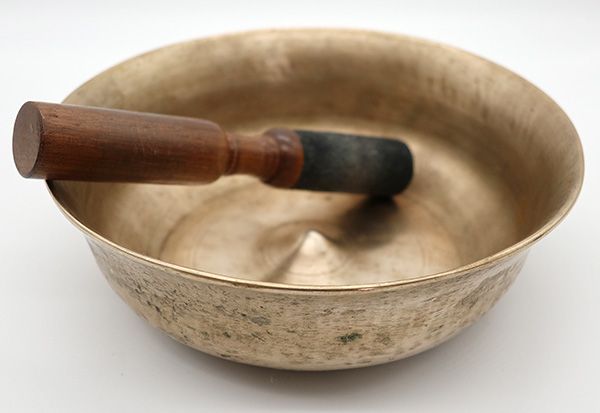 This stunning Lingam Singing Bowl is in superb museum quality condition, clean and stain-free, with a glorious antique golden bronze colour.
Simply Fabulous!
A Tibetan silk brocade bowl cushion, padded striker, and a double-ended teak and suede ringer are all included in the price.
Note: Audio clips coming soon.