Exceptionally Nice Antique Manipuri Singing Bowl – A3 (222Hz)
---
---
Antique Manipuri Singing Bowl – A3 – Third Eye Chakra
Weight 424 grams (0 lb 15 oz). Size 6½ x 2 inches (16.5 x 5 cm)
Antique Manipuri Singing Bowl – A3 – Third Eye Chakra
Weight 424 grams (0 lb 15 oz). Size 6½ x 2 inches (16.5 x 5 cm)
This is a medium size antique Manipuri Singing Bowl dating from the 19th century. It is particularly nicely decorated with a circle of suns (punched dots surrounded by circles) in the centre of the basin, and a pair of incised lines encircling the inner wall. The sun motif is continued all around the edge of the lip. This pretty bowl is structurally sound and clean.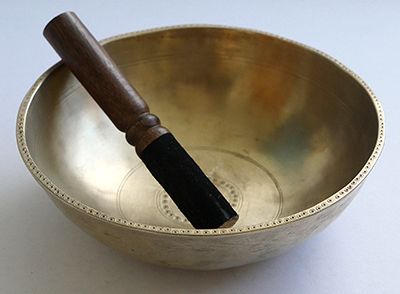 The fundamental struck note is an excellent low third octave A (222Hz). The rim note is the same with a suede ringer but changes to a powerful and high sixth octave D (1190Hz) if a wooden one is used. This is a very responsive bowl and easy to play.
A Tibetan silk brocade bowl cushion and a double-ended teak and suede ringer are included in the price.
Note: Audio clips coming soon.