Exquisite 18th Century Lingam Singing Bowl – Perfect Pitch B3 & Inscription
---
---
Antique Lingam Singing Bowl. Notes: B3 & F#5 (Crown & Heart Chakras)
Weight 653 grams (1 lb 7 oz). Size 17.5 x 9 cm (7 x 3 ½ inches)
Antique Lingam Singing Bowl. Notes: B3 & F#5 (Crown & Heart Chakras)
Weight 653 grams (1 lb 7 oz). Size 17.5 x 9 cm (7 x 3 ½ inches)
This rare medium-size antique Lingam Singing Bowl dates from the 18th century and has great aesthetic appeal with its gracefully curved and sensually smooth wall and wonderful antique bronze colour and patina. It also has a fabulous perfect pitch B3 voice and benefits from an inscription on the outer wall; a sure indication of the importance and high esteem in which this bowl was held by a former keeper.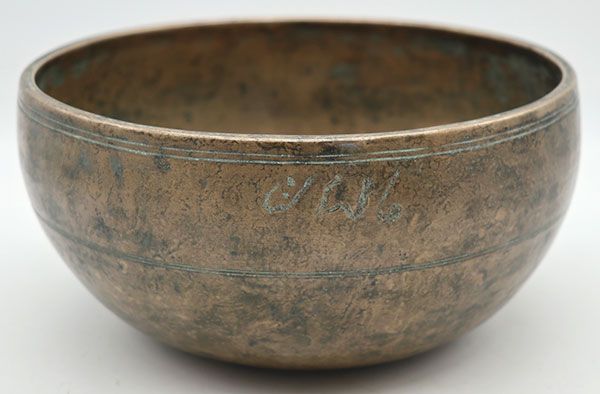 The fundamental note is a lovely third octave B3 (245Hz) when struck with a padded mallet and perfect concert pitch B3 (247Hz) when played around the rim with a suede ringer. The rim note changes to a fifth octave F#5 (728Hz) with a wooden ringer.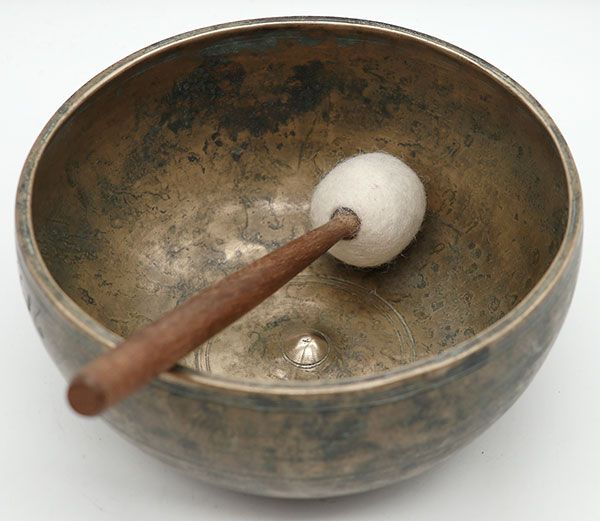 This bowl is beautifully proportioned and sits nicely in the hand. It has a grooved lip and decorative bands below the outer rim and around the belly. At its centre is a superb lingam surrounded and defined by circles, and a nice matching navel or yoni underneath.
It is in excellent structural condition and free of stains and blemishes. It has a wonderful dark bronze colour and rich patina, and the look and feel of great antiquity.
One of the prettiest and best bowls in my collection!
A Tibetan silk brocade bowl cushion and a double-ended teak and suede ringer are included in the price.
{audio}lingam653.mp3{/audio}
Listen: (3 struck notes and a played note with a wooden ringer)