Exquisite Rare Ceremonial 10¾ inch Antique Lingam Bowl – G#3cp
---
---
Antique Lingam Singing & Healing Bowl. G#3 (206Hz) Throat Chakra
Weight 5 lb 2¼ oz (2.33 kilos). 27 x 12 cm (approx. 10¾ x 4¾ inches)
Antique Lingam Singing & Healing Bowl. G#3 (206Hz) Throat Chakra
Weight 5 lb 2¼ oz (2.33 kilos). 27 x 12 cm (approx. 10¾ x 4¾ inches)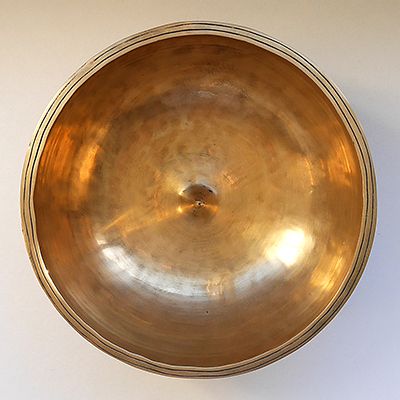 This is possibly the most beautiful antique Lingam Singing Bowl I've encountered in almost 30 years of collecting! It looks like it's been forged from pure gold!
This stunning bowl is huge for a lingam. An 8-inch diameter would be considered large, and rare, but this glorious bowl has a diameter of 10 ¾ inches and weighs well over 5 pounds (2.33 kilos). Even a quick glance tells you this golden bowl is special…something else!
The condition of this ancient bowl is exceptional. It is structurally perfect, clean, and virtually blemish free, and it has the most delicious and glowing golden colour. Its curved walls subtly splay towards the rim. They are so smooth to the touch from years of service and handling that it's hard to believe this bowl was originally beaten into shape with hammers!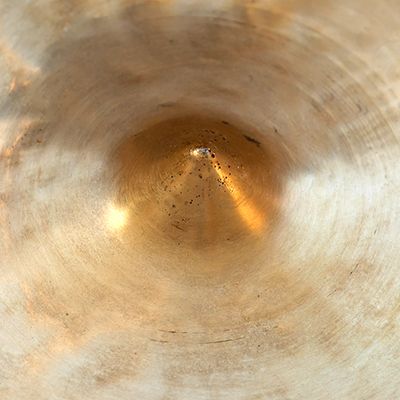 Its deeply grooved triangulated lip contrasts perfectly with the smooth walls and the bowl's simplicity of form. It has a superb pointed lingam at its centre, and a neat navel underneath. A pair of decorative incised lines encircles the bowl below the rim.
The physical beauty of this bowl is matched by its fabulous singing voice…a third octave G# that is virtually concert pitch! The note is the same whether struck with a padded mallet or played around the rim with a ringer. A padded striker and a suede-wrapped ringer are included in the price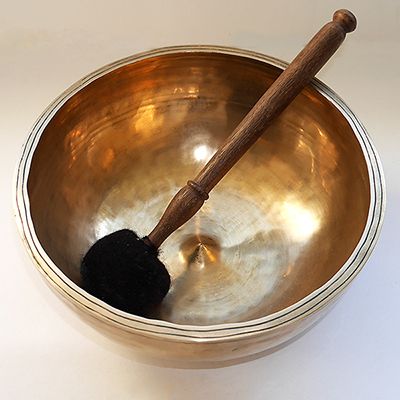 Everything about this antique Lingam singing bowl is exceptional, and its fantastic state of preservation leads me to believe that it once served an important ceremonial role. I have absolutely no hesitation in recommending it.
{audio}lingam2330.mp3{/audio}
Listen: (3 struck notes and 1 played note)