Exquisite Rare Small Antique Lingam Singing Bowl – G#4 & D6 – Ritual Gashes
---
---
Antique Lingam Singing Bowl. Notes: G#4 & D6 (Throat & Sacral Chakras)
Weight 478 grams (1 lb 1 oz). Size 13.5 x 7 cm (5 ¼ x 2 ¾ inches)
Antique Lingam Singing Bowl. Notes: G#4 & D6 (Throat & Sacral Chakras)
Weight 478 grams (1 lb 1 oz). Size 13.5 x 7 cm (5 ¼ x 2 ¾ inches)
This is an exquisite small antique Lingam Singing Bowl circa 1800 in excellent structural condition, clean and blemish free. It has a particularly lovely shape, a fabulous lingam at its centre surrounded by circles, and a matching yoni or navel underneath. It has a sheered lip encircled by a single fine line inside and out, and unusually there are decorative circles around the inner wall. A band of ritual gashes around the outer wall is a rare and interesting feature, seldom seen on a lingam bowl.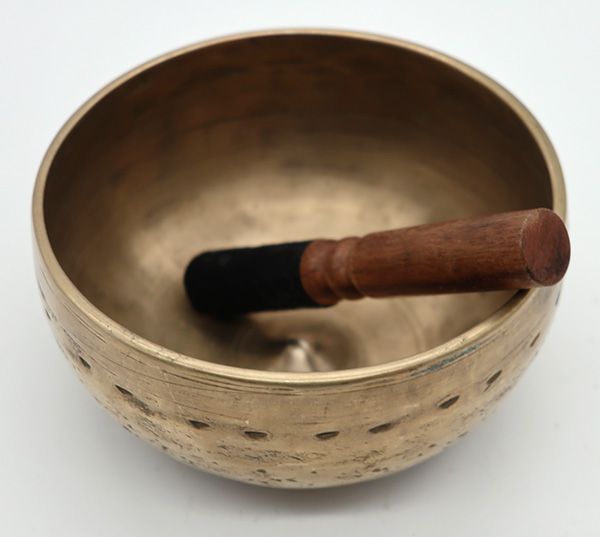 The fundamental note is a middle G#4 (408Hz) when struck with a padded mallet or played around the rim with a suede ringer. The rim note will evolve into an unusually high sixth octave D6 (1156Hz), the same note it changes to with a wooden ringer.
A rare and exceptional small antique Lingam Singing Bowl!
A Tibetan silk brocade bowl cushion, and a double-ended teak and suede ringer are included in the price.
{audio}lingam478.mp3{/audio}
Listen: (4 struck notes and a played note with a suede ringer)