Exquisite Superior Small 19th Century Lingam Singing Bowl – Bb3
---
---
Antique Lingam Singing Bowl. Notes Bb3 & F5 (Crown & Heart Chakras)
Weight 349 grams (0 lb 12 ¼ oz). Size 14.5 x 7 cm (5 ¾ x 2 ¾ inches)
Antique Lingam Singing Bowl. Notes Bb3 & F5 (Crown & Heart Chakras)
Weight 349 grams (0 lb 12 ¼ oz). Size 14.5 x 7 cm (5 ¾ x 2 ¾ inches)
This rare small lingam bowl must be one of the prettiest in my entire collection with its fine gracefully curved wall, grooved lip, and raised decorative bands around the rim and incised line encircling its belly. There is a neat lingam at its centre surrounded by circles and a matching navel or yoni underneath. This sensually smooth bowl feels great and perfectly fits the palm of the hand.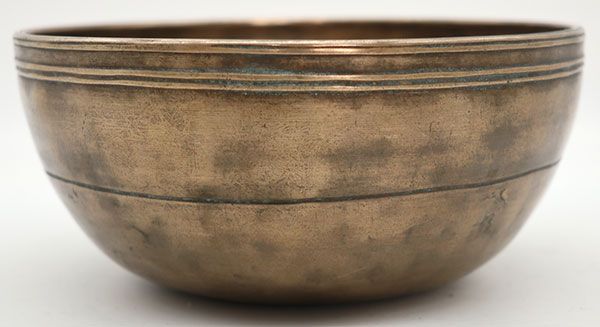 The fundamental note is a nice third octave Bb3 (227Hz) when struck with a padded mallet or played around the rim with a suede ringer. The rim changes to a sweet fifth octave F5 (681Hz) with a wooden ringer.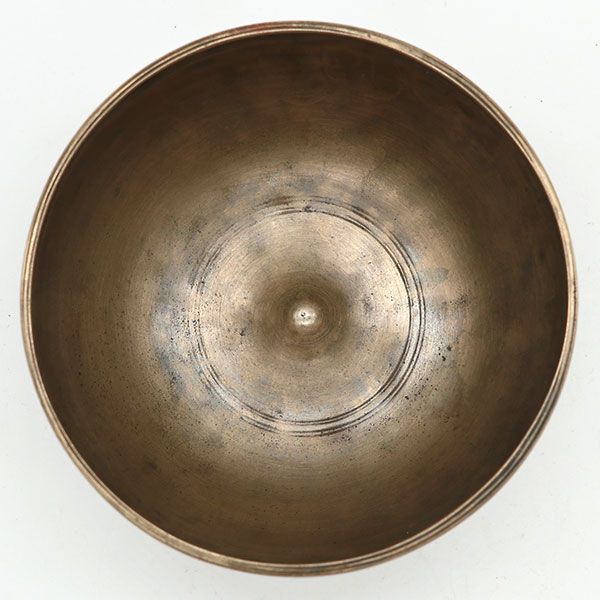 This superior quality and lovely little singing bowl dates from the 19th and is in excellent and clean structural condition but with a few barely noticeable tiny blemishes on its outer surface. It has a fabulous antique golden bronze colour.
A little gem!
A Tibetan silk brocade bowl cushion and 2 small ringers are included in the price.
Note: Audio clips coming soon.
RESERVED (GV)