Extraordinary Antique Eb3 'Shaman Bowl' with Inscription
---
---
Antique 'Shaman' Singing Bowl. Eb3 & G#5 (Solar Plexus & Throat Chakras)
Weight 4 lb 2 oz. (1.89 kilos). Size 26.5 x 9 cm (approx. 10½ x 3½ inches)
Antique 'Shaman' Singing Bowl. Eb3 & G#5 (Solar Plexus & Throat Chakras)
Weight 4 lb 2 oz. (1.89 kilos). Size 26.5 x 9 cm (approx. 10½ x 3½ inches)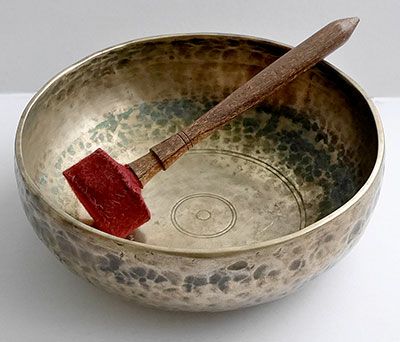 This extraordinary antique singing bowl has a form that many would classify as a 'Shaman Bowl' by virtue of its extreme width to height ratio.
It would certainly be well suited to the ritual arrangement and preparation of herbs and other ingredients, and it carries a small inscription on the outer wall that, at the very least, signifies its elevated status to a former keeper. It is perhaps the best of the bowls I have come across with this very rare form.
The fundamental note is a rather interesting gong-like third octave Eb (154Hz) when stuck. The note is the same Eb3 if played around the rim with a suede ringer. However, the rim note changes to a fifth octave G# (822Hz) if a wooden one is used. Sometimes both notes sing in harmony together. A padded striker and a double ended ringer are included in the price.
This is a heavy bowl with thick curved walls, a sheared lip, and a flat bottom. It has particularly attractive hammer markings both inside and out, with some of those on the inside having turned a mottled copper green. There are several well-defined decorative incised concentric circles at its centre.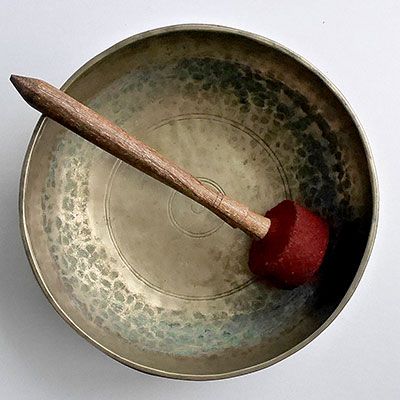 I believe this to be a 19th century bowl. There are a number of aged shallow and stable surface cracks on the outer wall of a type that are quite commonplace on large old bowls, particularly Jambati, and of no real consequence. And there is a barely-noticeable small hairline crack about an inch long on the inside floor. This is extremely unlikely to grow, and appears to have no impact on the quality of sound in this otherwise rare and wonderful bowl. However, I have reluctantly decided to reduce the price of this bowl by 50% to account for these imperfections.
{audio}uthado1890e.mp3{/audio}
Listen: (2 struck notes and 2 played notes, first with suede and then wood ringer)