Extraordinary Large Rare Antique Singing Bowl – B3 (242Hz) & Inscription
---
---
Antique Singing Bowl. Note B3 (242Hz) Crown Chakra
Weight 1.42 kilos (3 lb 2 ¼ oz). Size 31 x 10 cm (12 ¼ x 4 inches)
Antique Singing Bowl. Note B3 (242Hz) Crown Chakra
Weight 1.42 kilos (3 lb 2 ¼ oz). Size 31 x 10 cm (12 ¼ x 4 inches)
This extraordinary antique singing bowl with its wide hat-like brim is unlike any other I have come across in 30 years of collecting.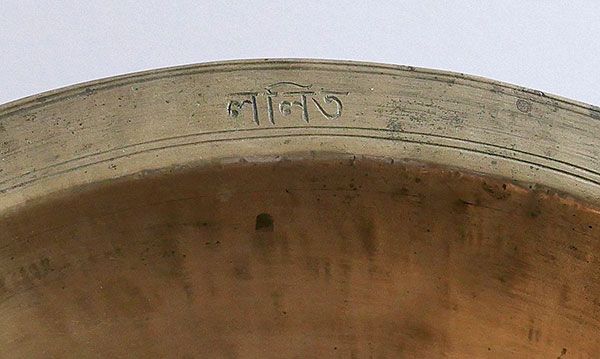 The out-turned rim has a small inscription set between decorative incised bands, and there are circles at its centre. The mottled hammer markings covering the outer surface are a particularly nice feature, and contrast with the smooth interior.
The struck note is an interesting third octave B (242Hz) when struck with a padded mallet. The rim note is the same, but somewhat hard to get going unless the bowl is first lightly struck. This suggest that the bowl would normally be struck rather than played, and that it has some other ritual or ceremonial function beyond singing.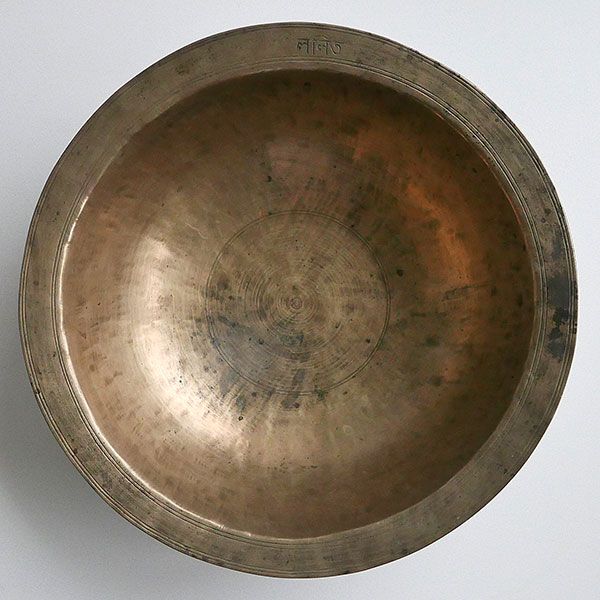 The antique dealer who supplied this bowl during my recent trip to Nepal said the Newar people sometimes use a similar sacred bowl as a plate for serving a woman's Dal Bhat meal during her pregnancy to ensure a safe childbirth, and that they are also used as sacred vessels for making holy water with kusha grass (Desmostachya Bipinnata) for Puja.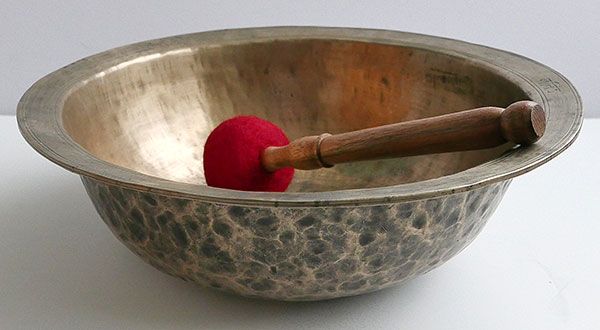 A Tibetan silk brocade bowl cushion, a padded striker and a suede ringer are all included in the price.
A very attractive and unique antique singing bowl that will appeal to a collector.
{audio}uthado1.42b3.mp3{/audio}
Listen: (7 struck notes)