Extremely Rare Antique Ultabati-Lingam Singing Bowl – Inscribed & Eb3 (160Hz)
---
---
Antique Lingam Singing Bowl. Note Bb3 (Solar Plexus Chakra)
Weight 1.72 kilos (3 lb 12 ¾ oz). Size 25.5 x 12.5 cm (10 x 5 inches)
Antique Lingam Singing Bowl. Note Bb3 (Solar Plexus Chakra)
Weight 1.72 kilos (3 lb 12 ¾ oz). Size 25.5 x 12.5 cm (10 x 5 inches)
This is the largest of only 3 antique Ultabati-Lingam Singing bowls that I have encountered in over 35 years of collecting at source in the Himalayas, two of which carry inscriptions, including this one. The Ultabati-Lingam must surely be a virtually unique bowl form.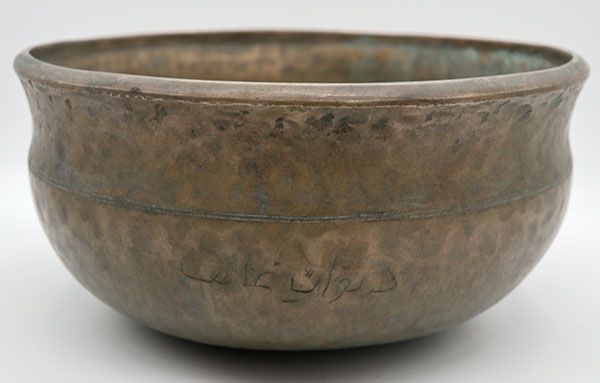 It has the distinctive Ultabati caldron-like form, with a scooped or flared neck and an out-turned downward-sloping lip. And there are decorative concentric circles on the inside wall, at its centre, and encircling its shoulder. It is the pronounced lingam at its centre and the navel or yoni underneath that makes this bowl so special, as it combines the sonic characteristics of both bowl forms.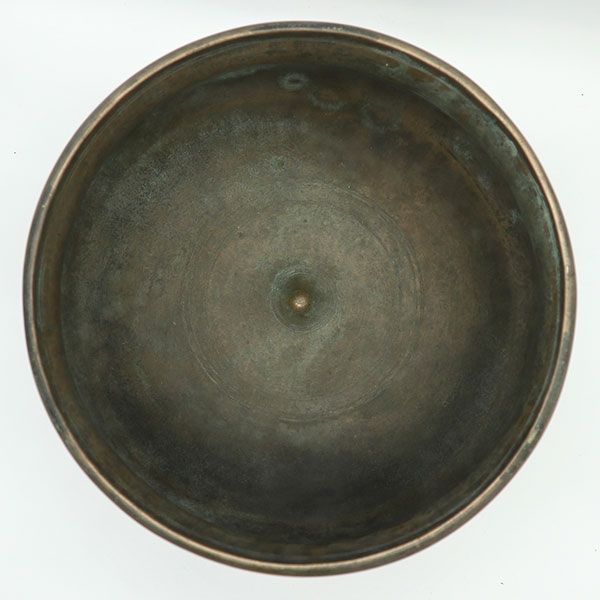 The fundamental note is a low third octave Eb3 (160Hz) when struck with a padded mallet or played around the rim with a suede ringer. There is sometimes and extraordinary G1 undertone.
It also benefits from an inscription on the outer wall: a certain indication of the importance and high esteem in which this bowl was held by a former keeper.
This rare antique bowl is in excellent structural condition and is supplied uncleaned and in its 'as found' condition. It has the look and feel of antiquity and has the most beautiful aged patina and colouration… dark golden bronze with shades of copper reds and greens.
Apart from the 3 Ultabati-Lingams for sale in my collection I doubt that you will ever see another!
A Tibetan silk brocaded bowl cushion, padded striker, and a ringer are all included in the price.
{audio}lingam1-72eb3.mp3{/audio}
Listen: (4 struck notes and 2 played notes, suede ringer then wood, followed by another struck note)