Extremely Rare Small Antique Lotus Lingam Singing Bowl
---
---
Antique Lotus Lingam Singing Bowl. Note C#4 – Root Chakra
Weight 462 grams (1 lb 0 ¼ oz). Size 16.5 x 5 cm (6 ½ x 2 inches)
Antique Lotus Lingam Singing Bowl. Note C#4 – Root Chakra
Weight 462 grams (1 lb 0 ¼ oz). Size 16.5 x 5 cm (6 ½ x 2 inches)
This extraordinary small antique Lotus Lingam Singing Bowl is unlike any I have come across in over 30 years of collecting…it is simply unique! The lotus petal pattern that covers its surface is quite intriguing, and I can only hazard a guess as to its construction. The fundamental note is a middle C# (274Hz) when struck or played around the rim.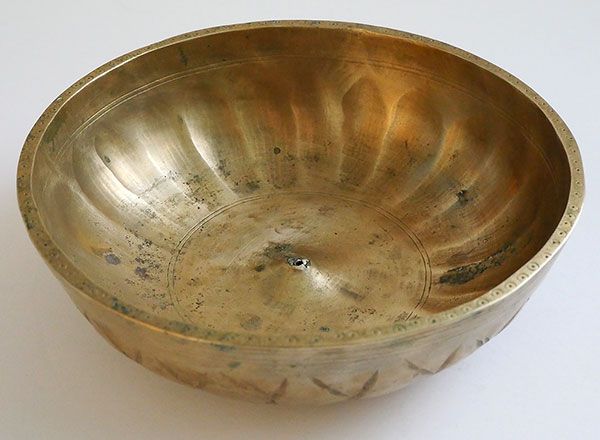 A pair of circles defines the flat area of floor around the pointed Lingam at its centre, and underneath there is a matching navel. The lip is decorated with suns (dots within circles) and there are decorative lines encircling the rim both inside and out.
The condition of this extraordinary bowl would be excellent were it not for a small hole that penetrates the centre of the lingam. In my opinion this little bowl is one-of-a-kind and well worthy of restoration, and I feel certain that someone can remedy this cosmetic issue.
A Tibetan silk brocade bowl cushion and a ringer are included in the price.
This unique antique singing bowl will undoubtedly appeal to a Lingam collector!
Note: Audio clips coming soon.