Fabulous 12¼-inch Antique Jambati Singing Bowl – Perfect B2 (124Hz)
---
---
Antique Ceremonial Jambati Singing Bowl – B2 (124Hz) Crown Chakra
Weight 2.85 kilos (6 lb 4¾ oz). Size 12¼ x 6¼ inches (31.5 x 16 cm)
Antique Ceremonial Jambati Singing Bowl – B2 (124Hz) Crown Chakra
Weight 2.85 kilos (6 lb 4¾ oz). Size 12¼ x 6¼ inches (31.5 x 16 cm)
This must surely be one of the world's most beautiful and desirable singing bowls! It would be hard to imagine an antique Jambati bowl with a superior form and sound.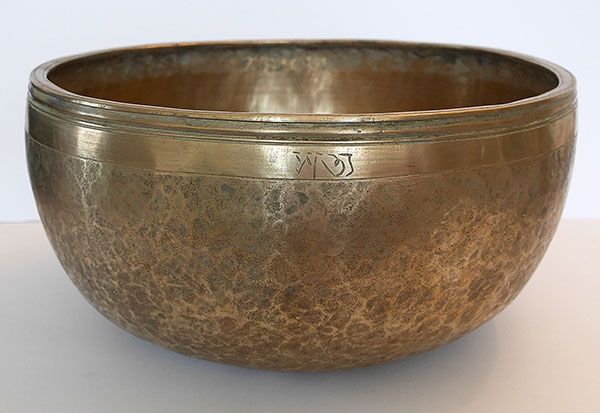 It has been expertly forged to the highest standard, with great attention given to every detail including the perfectly incised decorative banding below the rim and the contrasting surface textures on the outer wall. The interior features two sets of concentric circles, and is wonderfully smooth, shiny and golden.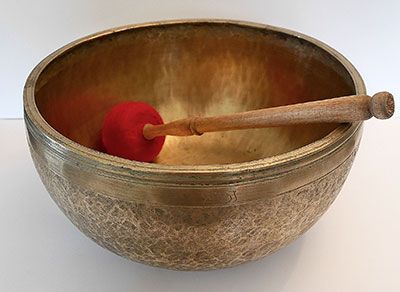 The sound of this bowl is simply exquisite…a stunning, sonorous and deep second octave B that is exactly perfect pitch. The struck and rim notes are the same B2 and both produce a long pulsating sustain.
A Tibetan silk brocade bowl cushion, a heavy padded striker, and a suede ringer are all included in the price.
A small inscription set within the decorative collar below the rim, coupled with its exceptional state of preservation, suggests that this bowl was highly prized, and adds to the possibility that it served an important ceremonial role within its original Himalayan community.
This wonderful Jambati bowl could hardly be bettered!
{audio}jambati2850b2.mp3{/audio}
Listen: (3 struck notes and 1 played note)