Fabulous 12-Piece Chakra Set of Large Antique 3rd to 4th Octave Lingam Singing Bowls
---
---
UNIQUE 12-PIECE SET OF RARE LARGE ANTIQUE LINGAM BOWLS
Notes F#3, G3, G#3, A3, Bb3, B3, C4, C#4, D4, Eb4, E4 (2) and F4
UNIQUE 12-PIECE SET OF RARE LARGE ANTIQUE LINGAM BOWLS
Notes F#3, G3, G#3, A3, Bb3, B3, C4, C#4, D4, Eb4, E4 (2) and F4
This is almost certainly a once in a lifetime opportunity to acquire A COMPLETE 12-PIECE CHAKRA SET of rare and exceptionally large ANTIQUE LINGAM SINGING BOWLS.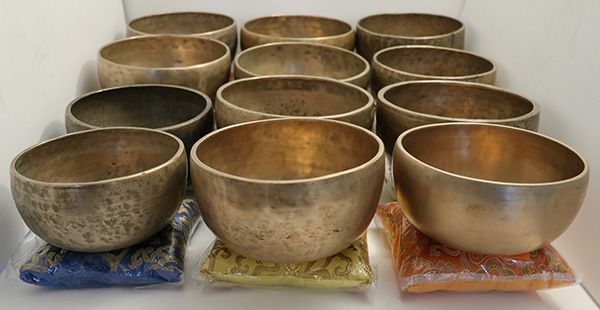 Antique Lingam bowls have distinctive physical and sonic qualities, and are used in sacred and ritual ceremonies. They are so rare that most singing bowl collectors and practitioners will never have encountered or handled a single bowl, so one can only imagine how special this complete chromatic/chakra set of twelve really is!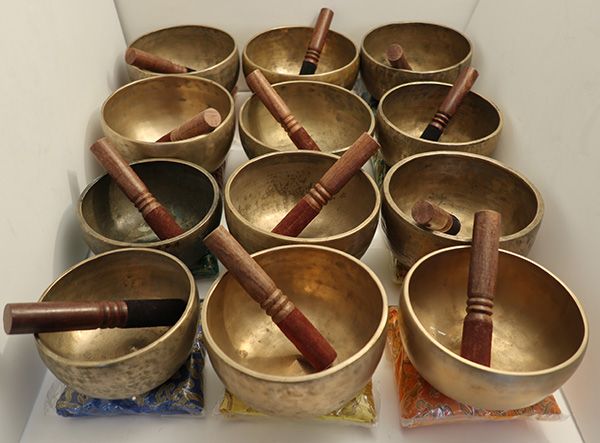 This large lingam singing bowl set spans the 3rd and 4th octaves. Their diameters range between 6 ¼ and 7 ¾ inches, averaging seven inches. They have been personally assembled and matched as far as possible by age (19th Century), condition, shape, octave and pitch. They are all very substantial antique bowls with high walls, lingams at their centre, and a matching navel or yoni underneath.
All the bowls have been tuned sequentially to the fundamental note when hand-held, and at rest on a cushion, and struck with a padded mallet. At least half are close to perfect pitch.
All are in excellent structural condition and basically unblemished, but with some being cleaner or having a more aged patina than others. Each bowl is supplied with a Tibetan silk brocade bowl cushion and ringer. A padded striker is also included.
Bowl 1. F#3 note (180Hz), 7 ½ inches, 1.07 kilos
Bowl 2. G3 note (194Hz), 7 ½ inches, 1.03 kilos
Bowl 3. G#3 note (206Hz), 7 inches, 821 grams.
Bowl 4. A3 note (217Hz), 7 ¾ inches, 1.06 kilos, inscribed.
Bowl 5. Bb3 note (230Hz), 7 ½ inches, 1.02 kilos
Bowl 6. B3 note (251Hz), 7 ¼ inches, 1.05 kilos
Bowl 7. C4 note (262Hz), 7 ½ inches, 1.07 kilos
Bowl 8. C#4 note (271Hz), 7 inches, 947 grams
Bowl 9. D4 note (295Hz), 6 ¾ inches, 906 grams
Bowl 10. Eb4 note (317Hz), 6 ¼ inches, 897 grams
Bowl 11. E4 note (323Hz), 6 ½ inches, 768 grams
Bowl 12. F4 note (354Hz), 7 inches, 751 grams
Bowl 13. Free Thadobati Bowl: E4 note (427Hz), 7 ½ inches, 1.41 kilos
Additional Observations:
a). There are some truly exceptional bowls in this set, and if sold individually six or seven would each be priced at over £700 (US$920).
b). The A3 bowl carries an inscription, a rarity on lingam bowls.
c). The F4 bowl is supplied in its 'as found' condition (structurally sound, but grubby and uncleaned) but would clean up with a little effort if desired.
d). Although the E4 bowl is a true E4 (323Hz) its note is quite close to the Eb4 (317Hz) and I would prefer the separation to be greater, particularly if the bowls are to be played together as part of a musical ensemble. I have therefore included another E4 (327Hz) bowl free of charge, a superb large extra-thick Thadobati, to better sit musically between the Eb4 and the F4 if required (photo below).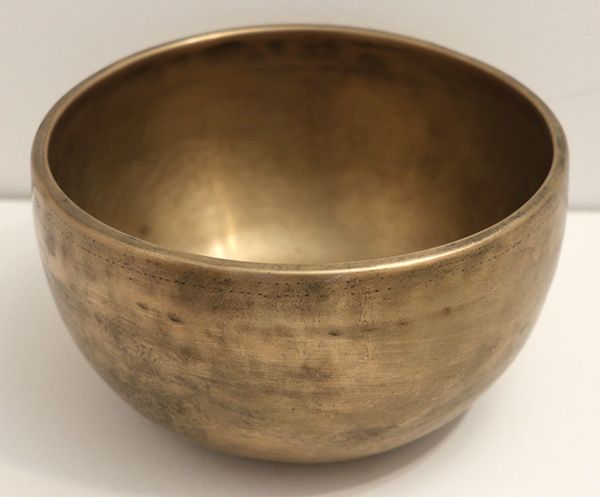 I have been collecting antique lingam singing and healing bowls for well over 30 years and currently have around 200 of these rare bowls in my private collection. I believe it to be the largest collection in the world today, and as such I have been able to create a number of unique sets. This is only the second complete matched set I have been able to assemble.