Fabulous And Unusual 18th Century Singing Bowl – Perfect Pitch C4
---
---
Unusual Antique Singing Bowl. C4 (262Hz) Root Chakra
Weight 3 lb 11 ¼ oz. (1.69 kilos). Size 23 x 11 cm (approx. 9 x 4¼ inches)
Unusual Antique Singing Bowl. C4 (262Hz) Root Chakra
Weight 3 lb 11 ¼ oz. (1.69 kilos). Size 23 x 11 cm (approx. 9 x 4¼ inches)
This magnificent and unusual singing bowl dates from the 18th century, possibly earlier. Its physical beauty is matched by a glorious middle C (258Hz) when struck with a padded mallet, and a perfect pitch middle C (262Hz) when played around the rim with a suede ringer. A Tibetan silk brocade bowl cushion, a padded striker and a ringer are all included in the price.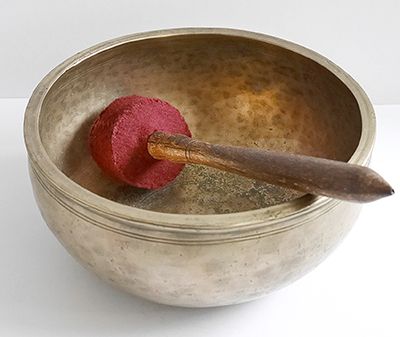 This beautifully crafted bowl is unusually heavy for its size. It has a gracefully curved wall and a thick-flanged lip that is grooved along its outer edge, a feature seldom seen. There are two decorative incised lines below the outer rim, and a matching pair inside. A single large circle defines the limits of its flat bottom, and inside there are two sets of concentric circles some distance apart.
This is a very old bowl and evidence of its long life is apparent here and there, including some oxidization and surface pitting at its centre. However, this remains a structurally sound bowl of great beauty. It has a highly unusual shape, a wonderful voice, and the look and feel of great antiquity.
{audio}jambati1690c4.mp3{/audio}
Listen: (3 struck notes and 1 played note)