Fabulous Antique Jambati Singing Bowl – G3 (197Hz)
---
---
Antique Jambati Singing Bowl – G3 – Throat Chakra
Weight 2.12 kilos (4 lb 11 oz) 11¼ x 4 ¾ inches (28.5 x 12 cm)
Antique Jambati Singing Bowl – G3 – Throat Chakra
Weight 2.12 kilos (4 lb 11 oz) 11¼ x 4 ¾ inches (28.5 x 12 cm)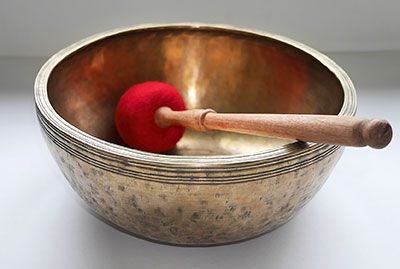 This fabulous large antique Jambati Singing Bowl ticks all the boxes…combining stunning good looks, exceptional condition, and a glorious voice!
This bowl is a dream to play. Its struck note is a superb pulsating third octave G with a good sustain. The rim note, also G3, is equally good. If a wooden ringer is used the rim note becomes a D5.
It has a particularly lovely shape with attractively hammered walls that gracefully curve in towards a smaller then usual base. It has a strong wide inward-facing grooved lip and well defined incised bands below the outer rim. There are four pairs of decorative concentric circles at its centre. All the decorative features are bold, deep and well-defined…something of a rarity on bowls of this age (circa 1800).
The condition of this antique bowl is exceptional. It is free of stains and blemishes, and has a wonderful golden bronze colour.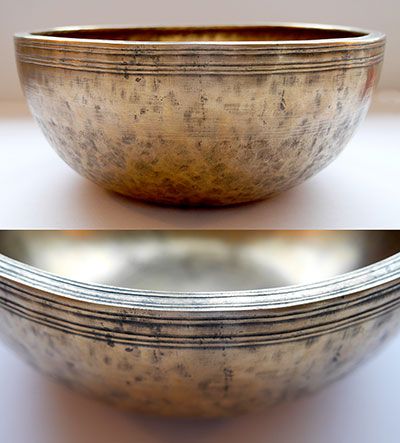 This premium quality bowl would be absolutely perfect as a single stand-alone piece for personal meditation and enjoyment, but would equally sit comfortably alongside a larger collection.
A padded striker and a suede ringer are included in the price.
{audio}jambati2120g3.mp3{/audio}
Listen: (2 struck notes and 3 played notes, the last with a wooden ringer)