Fabulous Collectable Rare 18th Century Lingam Singing Bowl – Bb3 & E5
---
---
Antique Lingam Singing Bowl. Notes: Bb3 & E5 (Crown & Solar Plexus Chakras)
Weight 784 grams (1 lb 11 ¾ oz). Size 20.5 x 9 cm (8 x 3 ½ inches)
Antique Lingam Singing Bowl. Notes: Bb3 & E5 (Crown & Solar Plexus Chakras)
Weight 784 grams (1 lb 11 ¾ oz). Size 20.5 x 9 cm (8 x 3 ½ inches)
This rare 18th Century Lingam Singing Bowl has a lovely low and graceful profile, an even triangulated lip with decorative bands encircling the outer rim, a large central lingam and a deep navel or yoni underneath.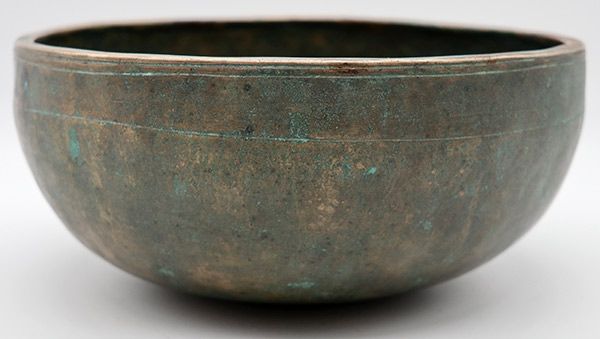 The fundamental note is an excellent third octave Bb3 (230Hz) when struck with a padded mallet or played around the rim with a suede ringer. If desired the rim note will readily transition to a powerful and penetrating fifth octave E5 (663Hz) with a suede ringer or directly with a wooden one.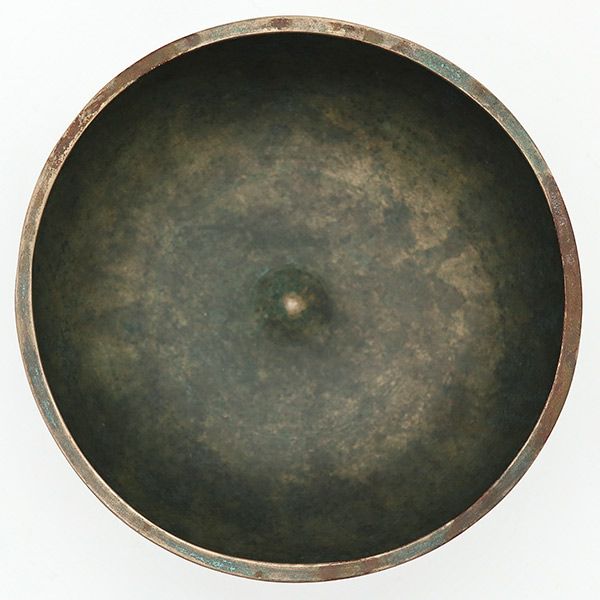 This highly collectable antique Lingam Singing Bowl has superbly crafted fine walls and is in excellent museum quality condition. It is supplied 'as found' with all its history intact, and the colour and patina of great use and antiquity.
Superior quality antique lingams like this are virtually impossible to find nowadays.
A Tibetan silk brocade bowl cushion and a double-ended teak and suede ringer are included in the price.
{audio}lingam784.mp3{/audio}
Listen: (3 struck notes and a played note)