Fabulous Huge Rare 12 ¼ " Antique Jambati Singing Bowl in 'As Found' Condition – C.P. A2
---
---
Antique Jambati Bowl. Notes A2 & E4 (Third Eye & Solar Plexus Chakras)
Weight 2.21 kilos (4 lb 14 oz). Size 31 x 16 cm (12 ¼ x 6 ¼ inches)
Antique Jambati Bowl. Notes A2 & E4 (Third Eye & Solar Plexus Chakras)
Weight 2.21 kilos (4 lb 14 oz). Size 31 x 16 cm (12 ¼ x 6 ¼ inches)
This Fabulous, huge, and rare antique Jambati Singing Bowl is supplied in its 'as found' condition; unwashed with all the dirt, dust, and patina acquired from long use and neglect during its lifetime. With a little effort it could probably be cleaned up and made to look like the shiny golden bowls we are all familiar with…but I personally like it as it is, with bags of character, its life-story intact, and the look and feel of great antiquity.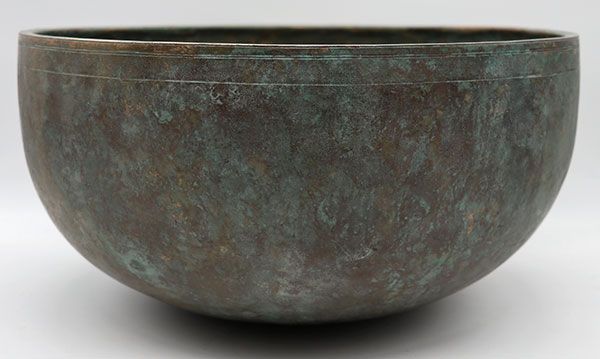 This superb bowl was recently sourced in the Indian Himalayas and dates from the 1800s or perhaps a little earlier. Its great size and quality suggest that it might have been originally commissioned for a temple or monastery.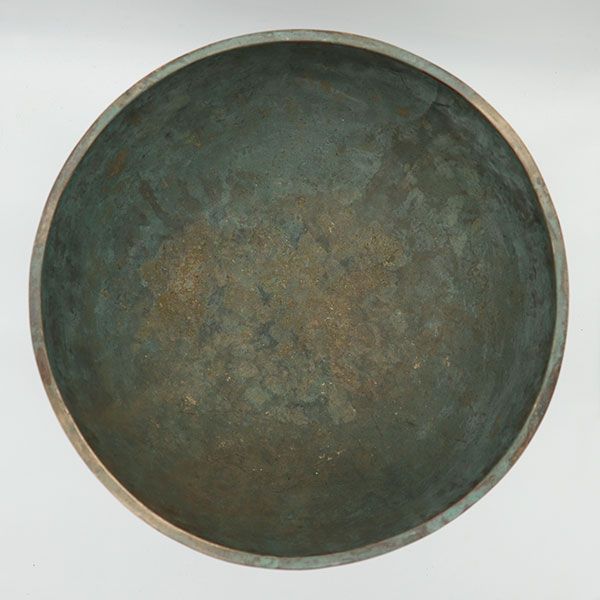 The fundamental note is a fabulous and uncommon perfect pitch low second octave A2 (109Hz) when hand-held and struck with a padded mallet or played around the rim with a suede ringer. This is a multi-harmonic bowl with lots of subtle vibrant energy that sometimes results in the A2 fundamental being accompanied by a more dominant G#2 (106Hz) and even a subtle E4 (330Hz). The rim note changes to a middle octave E4 (330Hz) with a wooden ringer. It is extremely responsive and easy to play.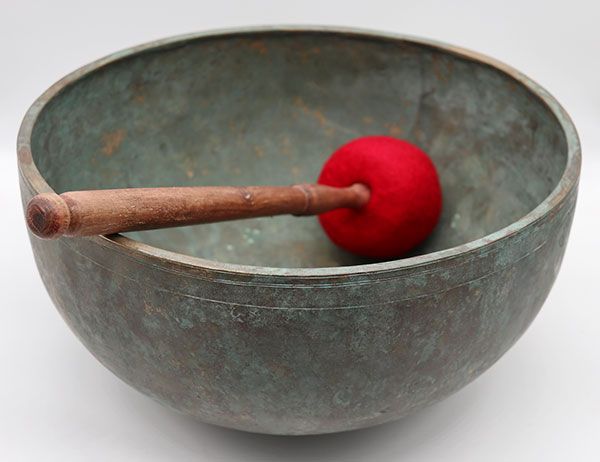 This is a superior quality bowl with finely beaten walls that make it relatively light for its size and therefore comfortable to hold and play for extended periods. It has a smooth full-bodied wall, a rounded bottom, and a plain triangulated lip. Decorative incised bands encircle the outer rim. It is in excellent structural condition, and has a beautiful red-green coppery colour and a wonderful aged patina.
It is extremely difficult nowadays to find any antique bowls over 11 inches, and they are highly sought-after by antique dealers and collectors alike. A bowl of this type, size and quality rarely comes to light, and this is unquestionably one of the finest antique bowls in my collection!
A rare opportunity to acquire a fabulous large bowl with bags of character and a stunning multi-harmonic voice!
A large Tibetan silk brocaded bowl cushion, padded striker, and two ringers are all included in the price.
{audio}jambati2-21.mp3{/audio}
Listen: (4 struck notes and 2 played notes, suede the wood ringer)