Fabulous Inscribed Golden 12-Inch 18th Century Jambati Singing Bowl – Perfect Pitch Eb2
---
---
Antique Jambati Singing Bowl. Note: Eb2 (Solar Plexus Chakra)
Weight 2.56 kilos (5 lb 10 ¼ oz). Size 30.5 x 15 cm (12 x 6 inches)
Antique Jambati Singing Bowl. Note: Eb2 (Solar Plexus Chakra)
Weight 2.56 kilos (5 lb 10 ¼ oz). Size 30.5 x 15 cm (12 x 6 inches)
This rare and exceptionally beautiful 12" Antique Singing Bowl must surely be one of the finest Jambati bowls in the world today, and if I could keep just one example this could well be it!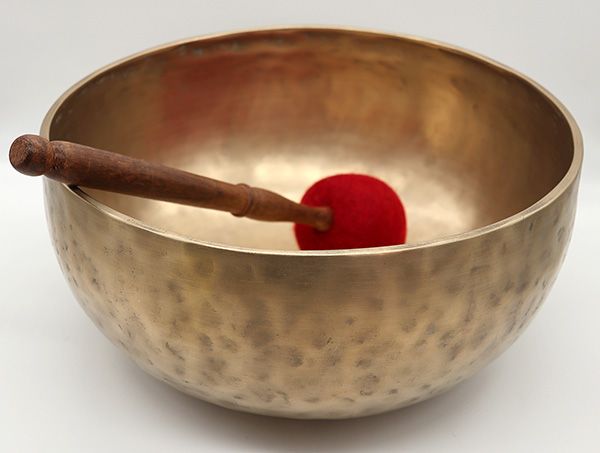 Dating from the 18th Century it has a superbly crafted deep-bodied wall with a rounded bottom and a level sheered lip. Its long service and ritual cleaning has resulted in a silky smooth surface inside and out that is now devoid of any decorative features it once possessed, save for a small dot-punched inscription half-way down the inside. Inscriptions are extremely rare, especially on Jambati bowls, and are a sure sign of the high esteem in which a former keeper held them.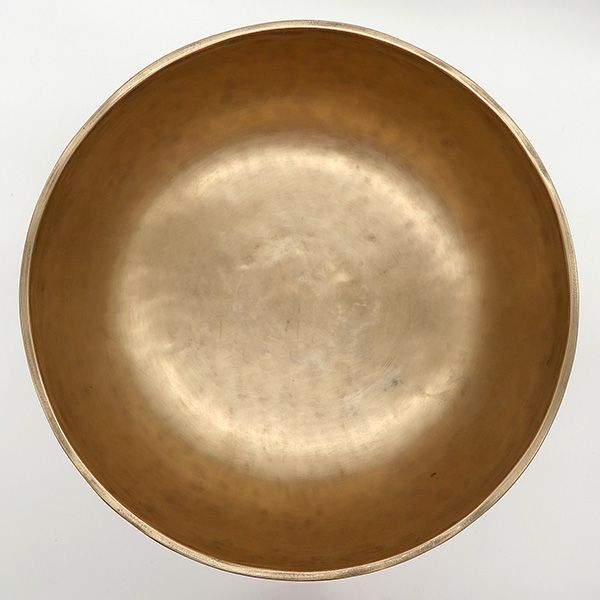 In addition to its considerable physical beauty this bowl has a wonderful pulsating low perfect pitch second octave Eb (77.7Hz) voice when struck with a padded mallet or played around the rim.
The structural condition of this huge antique bowl is excellent. It is clean and stain free, and has a fabulous bright golden bronze colour.
Antique Singing Bowls of this size and quality are exceptionally rare, and almost certainly served an important ceremonial function at temple festivals.
This is a truly unique opportunity to acquire a really incredible bowl, unquestionably one of the best in the world. You will not find another like it!
A large Tibetan silk brocade bowl cushion, padded striker, and 2 ringers are included in the price.
Note: Audio clips coming soon.