Fabulous Large & Heavy Golden Thadobati Singing Bowl – F#3/G3
---
---
Thadobati Singing Bowl. Notes F#3/G3 (Heart/Throat Chakras)
Weight 3 lb 11 oz. (1.68 kilos). Size 22 x 12 cm (8 ¾ x 4 ¾ inches)
Thadobati Singing Bowl. Notes F#3/G3 (Heart/Throat Chakras)
Weight 3 lb 11 oz. (1.68 kilos). Size 22 x 12 cm (8 ¾ x 4 ¾ inches)
This is a fabulous large Thadobati Singing Bowl with a G3 fundamental when struck with a padded mallet. However, the note is almost exactly midway between a third octave F# (190Hz) and a third octave G (191Hz) so it will readily move from one to the other when played around the rim with a suede ringer. The struck note is particularly beautiful and has a long sustain.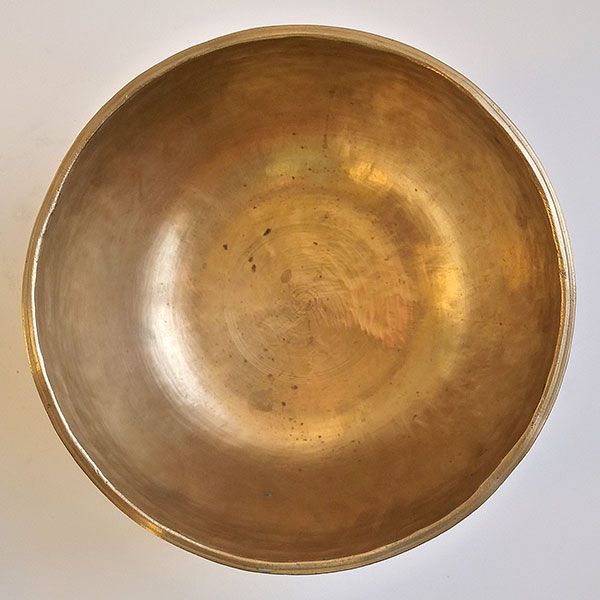 This is a very substantial and nice quality 20th century high-wall bowl with a thick wall, flat bottom, and grooved lip. There are circles at its centre and it has a decorative collar of dots around the outer rim. It is extremely uncommon to find a Thadobati Singing Bowl of this size and quality.
This impressive bowl has a glorious bright golden bronze colour and is in excellent and clean structural condition.
A Tibetan silk brocade cushion, padded striker, and a ringer are all included in the price.
Note: Audio clips coming soon.