Fabulous Large And Rare Antique Striking Bowl – Bb3 to B3 (239-253Hz) – Unique Voice
---
---
Antique Striking Bowl. Notes: Bb3/B3 (239-353Hz) Crown Chakra)
Weight 4 lb 8 oz. (2.04 kilos). Size 24 x 12.5 cm (9 ½ x 5 inches)
Antique Striking Bowl. Notes: Bb3/B3 (239-353Hz) Crown Chakra)
Weight 4 lb 8 oz. (2.04 kilos). Size 24 x 12.5 cm (9 ½ x 5 inches)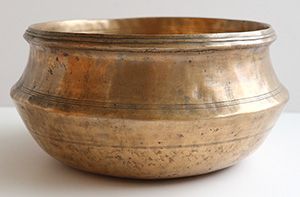 This fabulous and interesting premium quality antique bowl is one of a kind and in superb condition. Large, heavy, and complex in form, it would have been very difficult to forge so beautifully. It ranks among my favourite antique bowls…and yet it is not a singing bowl as far as I can tell, although it's possible to make it sing with some persistence.
I believe this beautiful antique bowl was made for striking…and might have had a similar purpose to that of a ritual bell. Its struck note is a wonderful and fluctuating third octave Bb and B (239Hz – 253Hz). It's a loud and haunting sound with a fairly long sustain.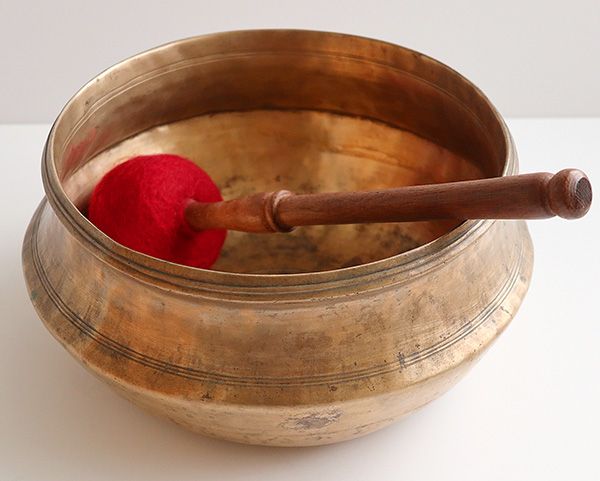 This bowl has a complex structure that is difficult to describe so I will let the pictures speak for themselves, and just mention the decorative features. There are some fabulous and bold concentric circles at its centre, and a pair of parallel incised lines below the inner rim. There are 3 decorative incised lines encircling the bowl's shoulder, and it's grooved lip is the best I have seen.
A Tibetan silk brocade bowl cushion, 2 different padded strikers, and a ringer are all included in the price.
{audio}strikingbowl.mp3{/audio}
Listen: (3 strikes followed by multiple strikes)