Fabulous Premium Quality 19th Century Manipuri Singing Bowl – E4 (425Hz)
---
---
Antique Manipuri Singing Bowl. E4 (425Hz) Solar Plexus chakra
Weight 0 lb 15 oz. (425 grams). Size 15 x 5 cm (6 x 2 inches)
Antique Manipuri Singing Bowl. E4 (425Hz) Solar Plexus chakra
Weight 0 lb 15 oz. (425 grams). Size 15 x 5 cm (6 x 2 inches)
This is a small 19th century premium quality Manipuri Singing Bowl with an excellent and easy to play middle E fundamental voice.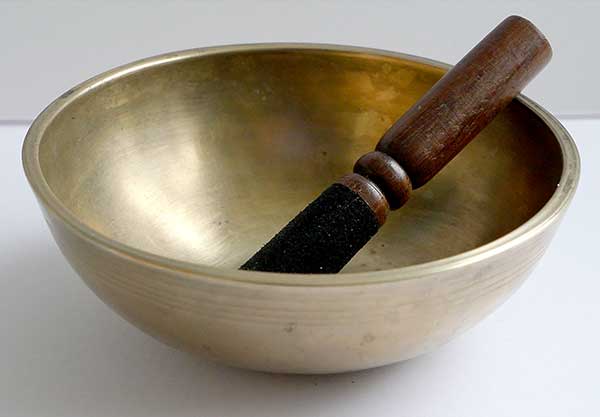 This bowl has been beautifully forged with walls that are thicker than normal and thus allowing for a substantial grooved lip. The circles at its centre have been worn away over the passage of time, but the very attractive and decorative multiple bands below the outer wall are still sharply defined.
This lovely old bowl is satin-smooth and a delight to look at, hold and play. It is in excellent structural condition, virtually free of stains and blemishes, and has a bright golden bronze colour.
A Tibetan silk brocade bowl cushion and a ringer are included in the price.
{audio}manipuri425e4.mp3{/audio}
Listen: (3 struck notes and 1 played note)