Fabulous Rare Large High-Wall 19th Century Lingam Singing Bowl – D3 – Inscribed
---
---
Antique Lingam Singing Bowl. Notes: D3 & G#4 (Sacral & Throat Chakras)
Weight 1.23 kilos (2 lb 11 oz). Size 22 x 10.5 cm (8 ½ x 4 ¼ inches)
Antique Lingam Singing Bowl. Notes: D3 & G#4 (Sacral & Throat Chakras)
Weight 1.23 kilos (2 lb 11 oz). Size 22 x 10.5 cm (8 ½ x 4 ¼ inches)
This is a fabulous large 19th century Lingam Singing Bowl with a third octave D3 (145Hz) fundamental that is close to concert pitch when struck with a padded mallet or played around the rim with a suede ringer. The rim note changes to a middle G#4 (424Hz) with a wooden ringer.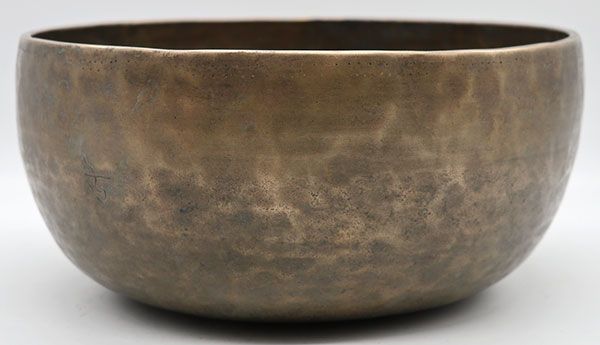 This high-wall bowl has been superbly crafted. It has a gently curved wall of even thickness, a sheered lip, and a flat bottom. There are two decorative bands of tiny dots around the outer rim, and a neat lingam at its centre surrounded and defined by circles, with a matching navel or yoni underneath. Its finely hammer-beaten surface is a particularly attractive feature, and a tiny inscription on the outer wall adds further interest.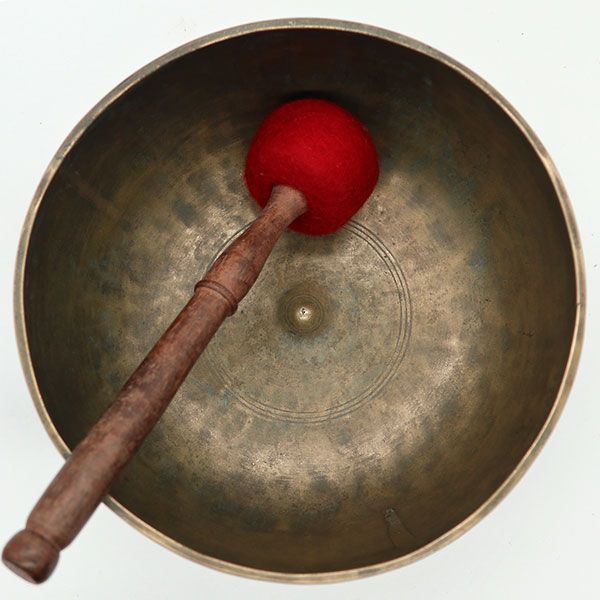 This bowl is structurally sound and clean and has an attractive dark bronze colour with an aged patina.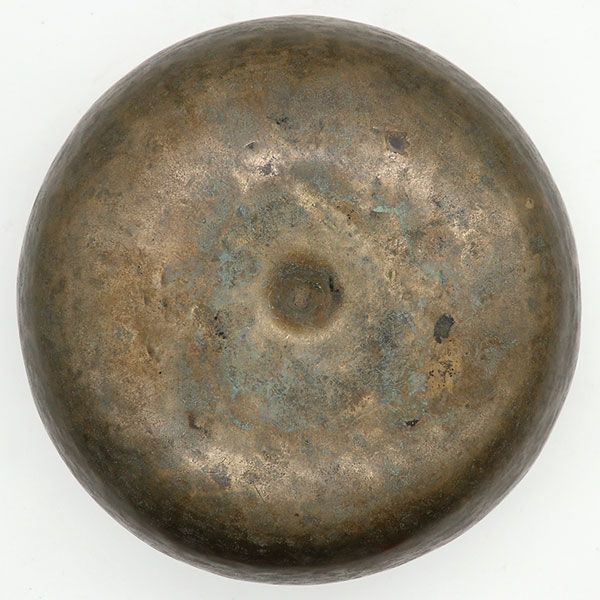 Antique Lingam Singing Bowls are now extremely rare, and this is an especially fine example in a larger size. It has the look and feel of age and purpose.
A Tibetan silk brocade bowl cushion and a ringer are included in the price.
{audio}lingam1-23.mp3{/audio}
Listen: (3 struck notes and 2 played notes, suede ringer then wood)