Fabulous Rare Leopard-Spot Antique Lingam Singing Bowl – Perfect Pitch A3
---
---
Antique Lingam Singing Bowl. Notes: A3 & Eb5 (Third Eye & Solar Plexus Chakras)
Weight 1.19 kilos (2 lb 9 ¾ oz). Size 20.5 x 7.5 cm (8 x 3 inches)
Antique Lingam Singing Bowl. Notes: A3 & Eb5 (Third Eye & Solar Plexus Chakras)
Weight 1.19 kilos (2 lb 9 ¾ oz). Size 20.5 x 7.5 cm (8 x 3 inches)
This is an exceptionally attractive antique Lingam Singing Bowl with its unusual mottled leopard-spot hammered surface, flat bottom and low profile. It has been skillfully crafted and is quite heavy for its size, with an excellent lingam at the centre surrounded by concentric circles, and a deep navel or yoni underneath.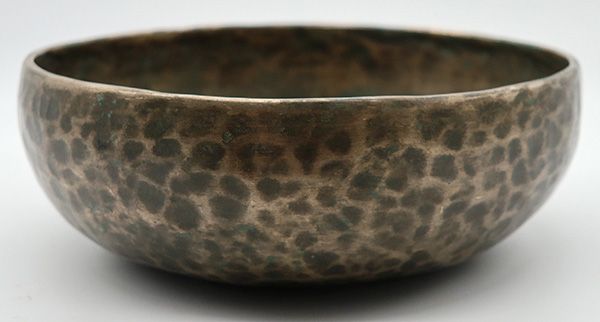 The fundamental is a perfect pitch third octave A3 (220Hz) when struck with a padded mallet or played around the rim with a suede ringer. The rim note changes to a fifth octave Eb5 (611Hz) with a wooden ringer.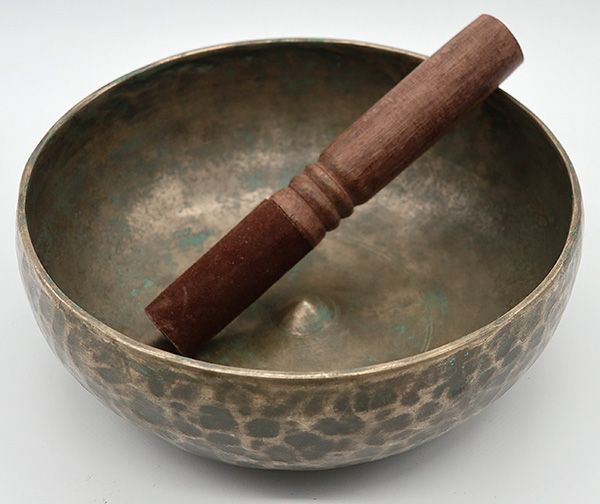 This rare antique Lingam Singing Bowl is in excellent structural condition, clean and stain-free, with an aged patina and a rich golden bronze colour showing between the darker mottled patches.
A Tibetan silk brocade bowl cushion and a double-ended teak and suede ringer are included in the price.
{audio}lingam1-19.mp3{/audio}
Listen: (3 struck notes and 2 played notes, suede ringer then wood)