Fabulous Unusual 10½ Inch Antique Singing Bowl – Glorious F#3 Voice
---
---
Unusual Antique Singing Bowl. F#3 (184Hz) Heart Chakra
Weight 4 lb 4 oz. (1.92 kilos). Size 26.5 x 11 cm (approx. 10½ x 4¼ inches)
Unusual Antique Singing Bowl. F#3 (184Hz) Heart Chakra
Weight 4 lb 4 oz. (1.92 kilos). Size 26.5 x 11 cm (approx. 10½ x 4¼ inches)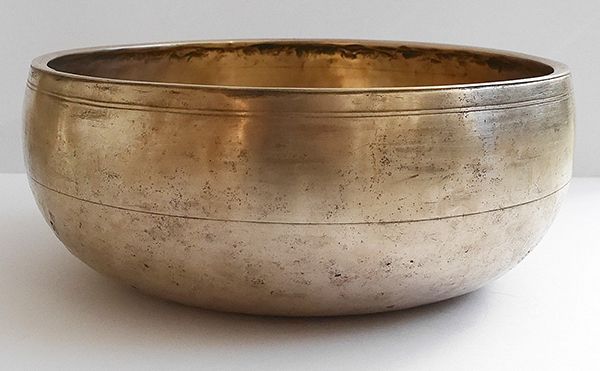 This magnificent singing bowl dates from the 19th century, possibly earlier. Its physical beauty is matched by a glorious pulsating third octave F# (183/184Hz) that borders on perfect concert pitch (195Hz). The struck note and the rim note are the same F#3 but the latter is fractionally closer to perfect. A Tibetan silk brocade bowl cushion, a padded striker and a ringer are all included in the price.
This exceptionally beautiful bowl, with its gracefully curved wall, has a remarkably low height to width ratio that accentuates its diameter, which at 10½ inches is already quite considerable. It has circles at its centre, a (faintly) grooved lip, and decorative bands below the outer rim. There is an incised line around its belly, and another high up on the inner wall.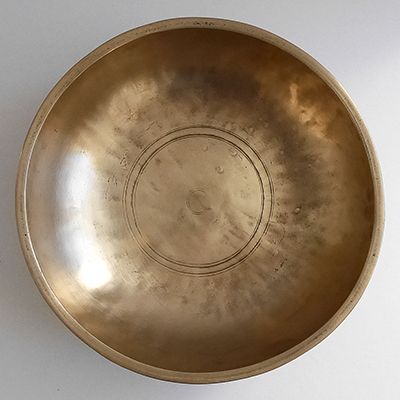 The bronze alloy from which the bowl was forged contained numerous impurities, possibly grit or fragments of cold metal, and these appear as tiny blisters on its surface, a few of which have burst on the outer wall. They do not impact on the sound or the beauty of the bowl. On the contrary, they add surface interest and serve to remind us of the conditions under which these wonderful instruments were made. The structural condition of this bowl is remarkably good considering its great antiquity.
One of my personal favorites!
{audio}jambati1920f.mp3{/audio}
Listen: (2 struck notes and 1 played note)