Fine-Walled Antique Lingam Singing Bowl – F3 (171Hz)
---
---
Antique Lingam Singing Bowl – F3 (171Hz) Heart Chakra
Weight 793 grams (1 lb 12 oz) Size 7¾ x 2¾ inches (19.5 x 7 cm)
Antique Lingam Singing Bowl – F3 (171Hz) Heart Chakra
Weight 793 grams (1 lb 12 oz) Size 7¾ x 2¾ inches (19.5 x 7 cm)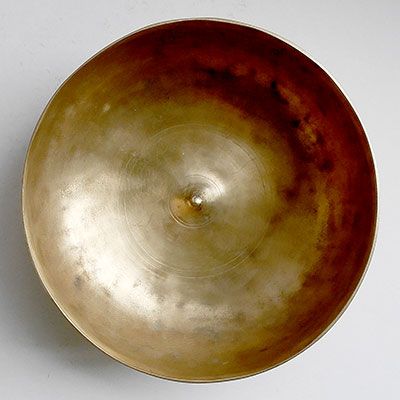 This antique Lingam Singing Bowl has a shallow profile and exceptionally fine walls, making it very light for its size. It would seem that the aim of the forge was to produce the largest bowl possible from the available metal, without risking its structural integrity. Its walls may be unusually thin, but they remain strong, rigid and sound!
The fundamental note is a nice low third octave F that resonates at a frequency around 171Hz when struck with a padded mallet or played around the rim with a suede ringer. A wooden ringer produces a fifth octave A with a frequency of 889Hz.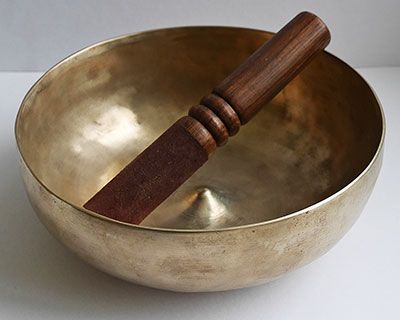 A particularly nice feature of this bowl is the beautiful symmetrical lingam at its centre, surrounded by two sets of concentric circles. There is a large and well-defined navel underneath.
This bowl is free of stains and has a bright golden bronze colour.
A Tibetan silk brocade bowl cushion and a ringer are both included in the price.
{audio}lingam793f.mp3{/audio}
Listen: (3 struck notes and 2 played notes, suede then wood)