Fine-Walled Bell-Shaped Singing Bowl with Exquisite Eb3 Voice
---
---
Antique Bell-Shaped Singing & Fountain Bowl. Eb3 (152Hz) Solar Plexus Chakra
Weight 2 lb 9¾ oz. (1.17 kilos). Size 20 x 10 cm (approx. 8 x 4 inches)
Antique Bell-Shaped Singing & Fountain Bowl. Eb3 (152Hz) Solar Plexus Chakra
Weight 2 lb 9¾ oz. (1.17 kilos). Size 20 x 10 cm (approx. 8 x 4 inches)
This graceful bowl has the finest walls I have come across in 30 years of collecting…and ranks among the very best singing voices…an exquisite and hauntingly beautiful third octave Eb (152Hz) whether struck with a padded mallet or played around the rim with a suede ringer. The rim note changes to a middle G# if a wooden ringer is employed…but it is the fabulous Eb3 struck and played notes that are memorable.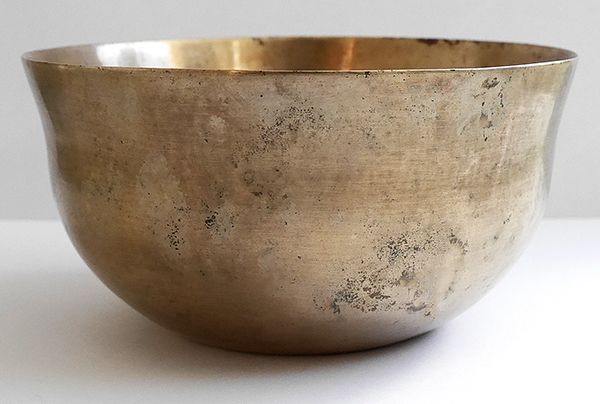 This bowl is very versatile as it also has excellent fountain abilities, with the water leaping right out of the basin if struck or played with water inside. It also has modest talking abilities.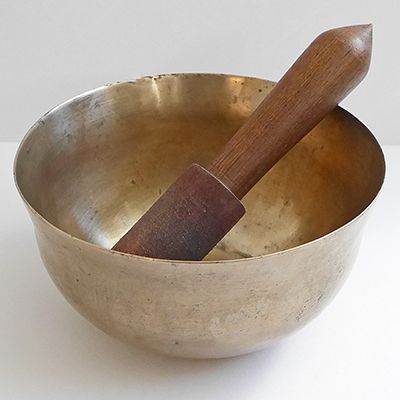 This lovely bowl has been expertly crafted, with incredibly fine wall and a small circular disc-like floor that is defined by an incised circle inside and underneath. The floor is actually quite substantial and thick, and slightly mounded inside the bowl. It has no decorative features…just a fabulous shape and voice. The condition of this wonderful old bowl is excellent. It has a lovely antique golden bronze colour, and is free of all but the faintest stains and blemishes.
A Tibetan silk brocade bowl cushion, a padded striker and a ringer are all included in the price.
{audio}uthado1170.mp3{/audio}
Listen: (2 struck notes and 1 played note)