Flat-Bottomed Antique Shaman Bowl – Unique Sound & Fountains
---
---
Antique Shaman Singing Bowl – A3 (Third Eye Chakra)
Weight 908 grams (2 lb 0 oz) 8 x 2½ inches (20 x 6.5 cm)
Antique Shaman Singing Bowl – A3 (Third Eye Chakra)
Weight 908 grams (2 lb 0 oz) 8 x 2½ inches (20 x 6.5 cm)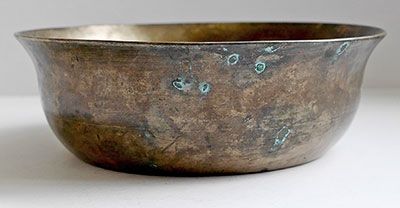 An extremely rare and unusual antique flat-bottomed shaman bowl with a unique voice and interesting fountain abilities! This bowl's low height to width ratio is fairly typical of shamanic vessels employed in the ritual display and preparation of herbs and other ingredients, and its flat pan-like bottom would readily heat up its contents over fire. Indeed, there is a hint of scorched bloom to the outside of this bowl. There are also a number of irregular and hammer marks on the bottom that I cannot explain, as they appear not to have been part of the original forging process.
This ancient bowl has a unique shape. Its finely forged walls curve upwards from a sharply defined flat base and dramatically flare out towards the rim in a way that I have not previously seen. Decoration is minimal…two small concentric circles at it centre, and a single incised line encircling the outer wall. Another line can be found encircling the inner wall, at about the midpoint. This is possibly a water level marker.
This bowl has an extraordinary and rather haunting gong-like voice when struck with a padded mallet…a third octave A with a frequency of 215 Hz. The rim note is the same. However, I believe the sound of this bowl, although interesting, is secondary to its function as a shamanic ritual vessel or container.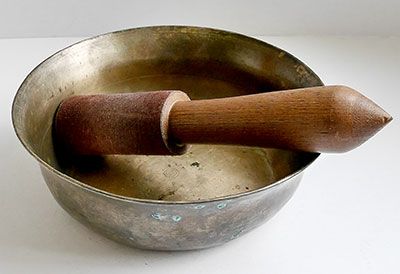 If this bowl is filled with water to the level of the internal line previously mentioned, and then struck with a padded mallet, the water is energized to such an extent that it sprays right out!
This unusual bowl is structurally sound, clean and smooth to the touch. It has a deep golden bronze colour with a few random spots of copper oxide here and there, and the look and feel of great antiquity. A padded mallet and a wooden ringer are included in the price.
{audio}shaman908.mp3{/audio}
Listen: (3 struck notes and 1 played note)