Flat-Bottomed Antique Talking Bowl – Interesting D3 Voice
---
---
Antique Talking Singing Bowl – Note Eb3 (152-154Hz) Solar Plexus Chakra
Weight 0.76 kilos (1 lb 10 oz) 8 x 3 ¼ inches (20.5 x 8 cm)
Antique Talking Singing Bowl – Note Eb3 (152-154Hz) Solar Plexus Chakra
Weight 0.76 kilos (1 lb 10 oz) 8 x 3 ¼ inches (20.5 x 8 cm)
A rare antique flat-bottomed antique singing and talking bowl with an interesting Eb3 voice and some fountain ability! This bowl shape is similar to some shamanic vessels employed in the ritual display and preparation of herbs and other ingredients, and its flat pan-like bottom would readily heat up its contents over fire.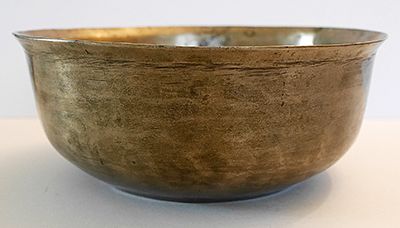 This old bowl dates from the 19th century (possibly earlier) and has a very uncommon shape with finely forged walls that flare out towards the rim. Any decorative features it may have had have been worn away with the passage of time.
This bowl has a rather haunting third octave Eb (152-154Hz) voice when struck with a padded mallet or played around the rim with a suede ringer. The rim note changes to a middle A (442Hz) if a wooden ringer is employed. If struck or played with a little water inside and rocked back and forth it will produce a variety of sounds typically found in talking bowls. A degree of experimentation with water levels and methods of play may be necessary to bring out its potential.
This unusual bowl is structurally sound and basically free of blemishes and all but a few minor stains. It is smooth to the touch and has a deep golden bronze colour with some aged patina. A double-ended teak and suede ringer is included in the price.
Note: Audio clips coming soon.