Glorious 10 ¼ Inch Antique Lingam Singing Bowl – F3/F#3 (179/180Hz)
---
---
Rare Antique Tibetan Lingam Singing Bowl. F3/F#3 (Heart Chakra)
Weight 5 lb 1 ¼ oz. (2.52 kilos). Size 26 x 13.5 cm (approx. 10 ¼ x 5 ¼ inches)
Rare Antique Tibetan Lingam Singing Bowl. F3/F#3 (Heart Chakra)
Weight 5 lb 1 ¼ oz. (2.52 kilos). Size 26 x 13.5 cm (approx. 10 ¼ x 5 ¼ inches)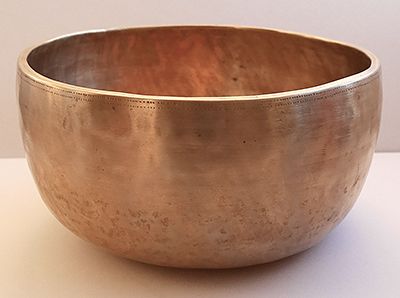 This is a really rare huge 19th century Lingam Singing Bowl in fabulous condition.
It has a glorious powerful and pulsating voice with a frequency of 179-180Hz that is midway between F3 and F#3 when struck with a padded mallet or played around the rim with a suede ringer. The rim note changes to a fifth octave C (520Hz) if a wooden ringer is used. It's voice ranks among the best I have heard in 30 years of collecting.
This Lingam bowl weighs over 5 pounds and has a diameter of 10 ¼ inches. It has the Thadobati form with its high-sided wall and flat wide bottom. It has a thick grooved rim, an excellent pointed lingam at its centre surrounded by two sets of concentric circles, and a neat navel underneath.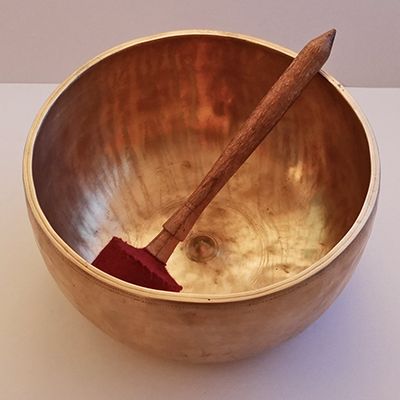 The outer rim is decorated with two bands of tiny punched dots just below the outer rim. It has a lovely bright golden bronze colour and is virtually free of stains and blemishes.
A Tibetan silk brocade bowl cushion and a teak and suede ringer are included in the price.
Lingam bowls of this exceptional size and superior quality are extremely rare and this may well be an once-in-a-lifetime opportunity to acquire one.
Note: Audio clips coming soon.