Glorious 14-inch Antique Jambati Singing Bowl – Stunning A2 (109Hz)
---
---
Antique Jambati Singing Bowl – A2 (109Hz) Third Ete Chakra
Weight 3.58 kilos (7 lb 14 ½ oz). Size 14 x 6 ¾ inches (35.5 x 17 cm)
Antique Jambati Singing Bowl – A2 (109Hz) Third Ete Chakra
Weight 3.58 kilos (7 lb 14 ½ oz). Size 14 x 6 ¾ inches (35.5 x 17 cm)
A massive and beautiful 14-inch antique Jambati Singing Bowl with a stunning rare low second octave A voice (109Hz) that is very close to concert pitch. The struck note has a powerful pulse and a long sustain. The rim note is the same A2 when played with a suede ringer, but changes to an excellent middle E (333Hz) if a wooden ringer is used. A heavy suede ringer will produce a vibrant OM sound if required, and this bowl is capable of producing fountains if played with a little water inside.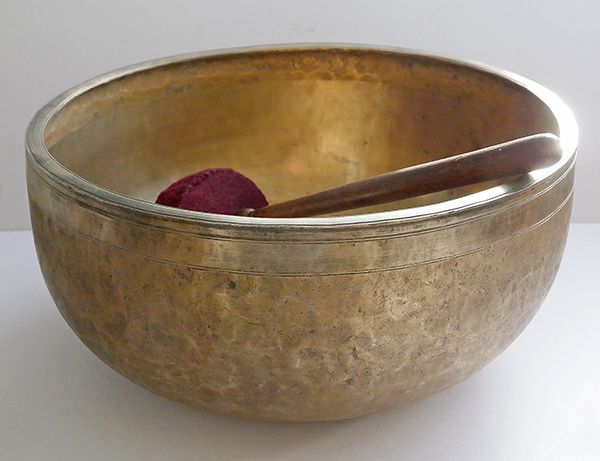 This majestic bowl is in excellent and clean condition. It has a beautiful full-bodied form and has been superbly forged throughout. The decorative features are all well defined and it has attractive hammer marks covering the outer wall. Its size and condition, together with the quality of sound, lead me to believe it may have been a ceremonial temple bowl. There is very little wear around the playing edge so it was probably struck rather than played.
It is difficult to date a bowl like this but I believe it to be late 19th century or early 20th. Either way it is a massive and wonderful premium quality specimen with an excellent pulsating low voice in a rare and sought-after note. A Tibetan silk brocade bowl cushion, a striker and a ringer are all included in the price.
A glorious and commanding Jambati singing bowl that would be a much-admired centerpiece in any collection!
Note: Audio clips coming soon.