Glorious Huge 12 ¼" Antique Jambati Singing Bowl – Perfect Pitch F2/F3
---
---
Antique Jambati Singing Bowl F2/F3 (87 & 170/74Hz) Heart Chakra
Weight 2.94 kilos (6lb 7 ¾ oz). Size 31 x 15.5 cm (approx. 12 ¼ x 6 inches)
Antique Jambati Singing Bowl F2/F3 (87 & 170/74Hz) Heart Chakra
Weight 2.94 kilos (6lb 7 ¾ oz). Size 31 x 15.5 cm (approx. 12 ¼ x 6 inches)
This glorious huge and heavy antique Jambati Singing Bowl has two harmonic F voices. When struck with a padded mallet it's sometimes difficult to determine which of the two notes is the fundamental, and which is the second harmonic…the perfect pitch second octave F (87Hz) or the excellent third octave F (170/74Hz). The rim note is the deciding factor…the stunning perfect pitch second octave F (usually). This bowl is also capable of producing fountains if played with a little water inside.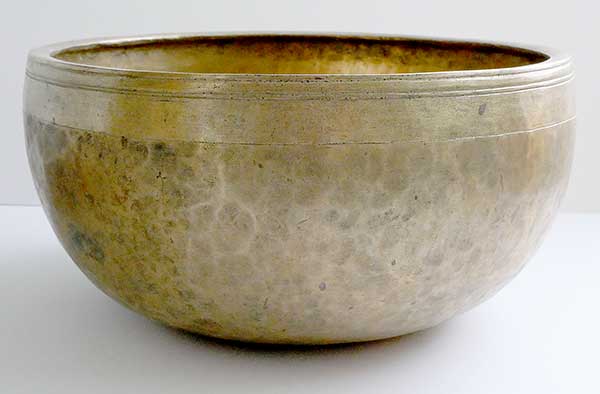 At just under 3 kilos (7 ½ pounds) this is a really heavy bowl, and probably best played when it is at rest on a mat or cushion. It has an exceptionally beautiful form and has been expertly forged. It has fine walls, a triangulated lip, circles at its centre and decorative bands around the outer rim.
The structural condition of this lovely bowl is very good despite some out-of-sight surface corrosion underneath that has no discernable impact on the quality of its sound. A padded striker, a Tibetan silk brocade bowl cushion and a ringer are all included in the price.
{audio}jambati2940.mp3{/audio}
Listen: (3 struck notes and 1 played note)