Glorious Large 12 ¼" Antique Jambati Singing Bowl – Rare A2 Note & OM
---
---
Antique Jambati Singing Bowl. Note: A2 (Third Eye Chakra)
Weight 2.6 kilos (5 lb 11 ½ oz). Size 31 x 14 cm (12 ¼ x 5 ½ inches)
Antique Jambati Singing Bowl. Note: A2 (Third Eye Chakra)
Weight 2.6 kilos (5 lb 11 ½ oz). Size 31 x 14 cm (12 ¼ x 5 ½ inches)
This glorious large 12 ¼" Antique Singing Bowl is in fabulous condition and has a superb second octave and rare low A2 (108Hz) fundamental that is quite close to concert pitch when struck with a padded mallet or played around the rim. It has lots of vibrant energy and is capable of producing fountains and the low OM sound with a little practice.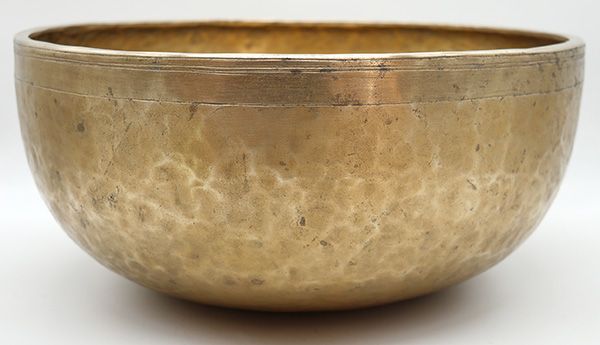 This 19th Century bowl has a superbly crafted deep-bodied wall with a rounded bottom and a level triangulated grooved lip. Its finely hammered walls make it relatively light for its considerable size. There are decorative bands encircling the outer rim, and circles at the centre.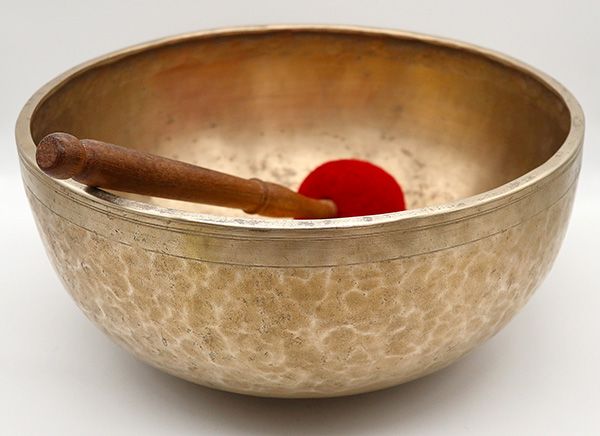 The structural condition of this huge antique bowl is excellent. It is clean and stain free, with a bright golden appearance outside and some patches of light copper oxidization inside.
Antique Singing Bowls of this size and quality are exceptionally rare, and almost certainly served an important ceremonial function at temple festivals. This is a rare opportunity to acquire a really stunning large bowl.
A large Tibetan silk brocade bowl cushion, padded striker, and 2 ringers are included in the price.
Note: Audio clips coming soon.