Glorious Massive 14 ½" Ceremonial Jambati Bowl from Bangladesh – Perfect Pitch G2
---
---
Ceremonial Jambati Singing Bowl G2 (98Hz) & D4 (301Hz). Throat & Sacral Chakras
Weight 4.05 kilos (8 .92 pounds). Size 36.5 x 17.5 cm (approx. 14 ½ x 6 ¾ inches)
Ceremonial Jambati Singing Bowl G2 (98Hz) & D4 (301Hz). Throat & Sacral Chakras
Weight 4.05 kilos (8 .92 pounds). Size 36.5 x 17.5 cm (approx. 14 ½ x 6 ¾ inches)
This massive 14 ½ inch Ceremonial Jambati singing bowl was sourced in Bangladesh but is believed to have its origins elsewhere in the Himalayas. It is possibly the finest hand-beaten and engraved bowl that I have encountered in 30 years of collecting, and a true work of art!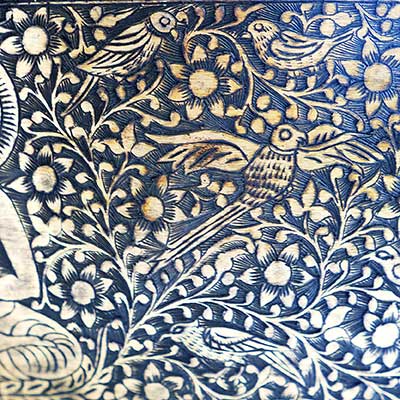 It is decorated with superb figurative carvings or engravings of the Teaching Buddha (Dharmachakra Mudra) surrounded by sunflowers and foliage in which 10 different types of bird sitting or flying…herons, owls, woodpeckers, etc. There are 8 identical Buddhas in all, representing the eight auspicious symbols in Tibetan Buddhism. The carving covers the entire visible area of the outer wall and must have taken months to complete.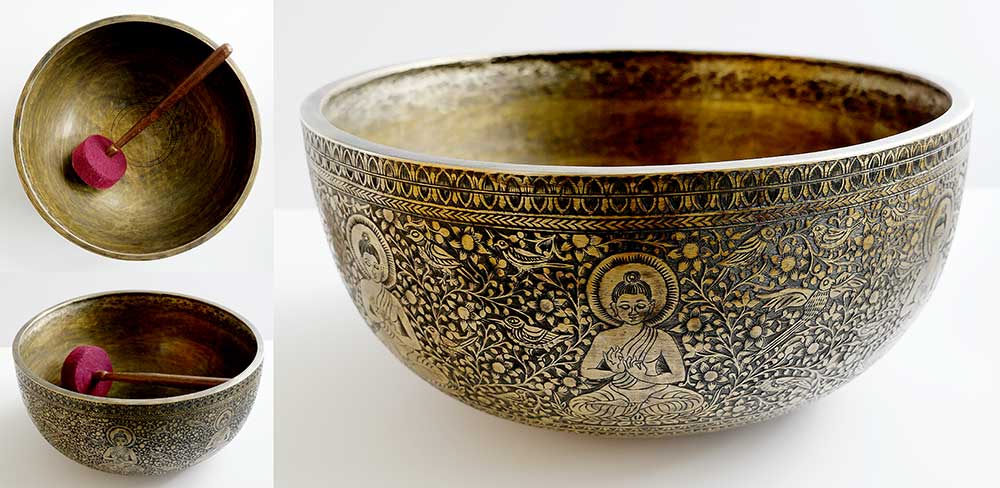 This magnificent ceremonial singing bowl has a low perfect pitch G2 (98Hz) fundamental note and a D4 (301Hz) harmonic. It's hard to imagine how the perfect pitch was achieved because the removal of metal during the engraving process would have altered the pitch! Perhaps it is simply coincidental. The beautiful struck note appears to have a relatively short sustain until you place your ear close to the rim when it hums a long low note, while the played rim note is particularly sonorous and sweet. This bowl is also capable of producing fountains if played with water inside, and the vibrant OM sound if played around the rim with a heavy suede ringer.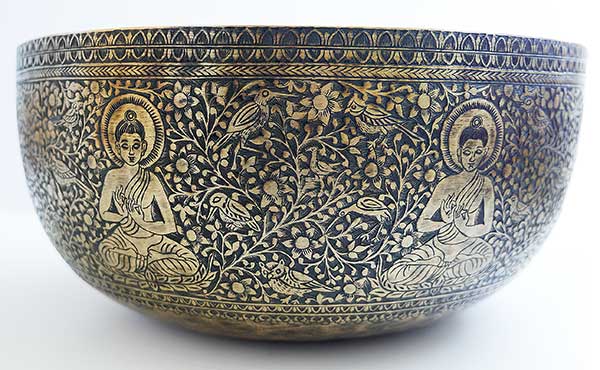 It has a beautiful deep-bodied form and a smooth triangulated lip. The decorative concentric circles at it centre have a diameter of about 5 inches. Its superb condition, along with its unique and exquisite carving makes this one-of-a kind bowl difficult to date, but my guess is 20th century. It is an incredibly beautiful object that would grace any collection, but it would be most at home in a religious or ceremonial context…perhaps on a shrine or in a meditation centre. Its price is a reflection of what I had to pay to acquire this rare and wonderful masterpiece. A Tibetan silk brocade bowl cushion, a heavy mallet and a ringer are included.
{audio}buddhabowl.mp3{/audio}
Listen: (5 struck notes and 1 played note)